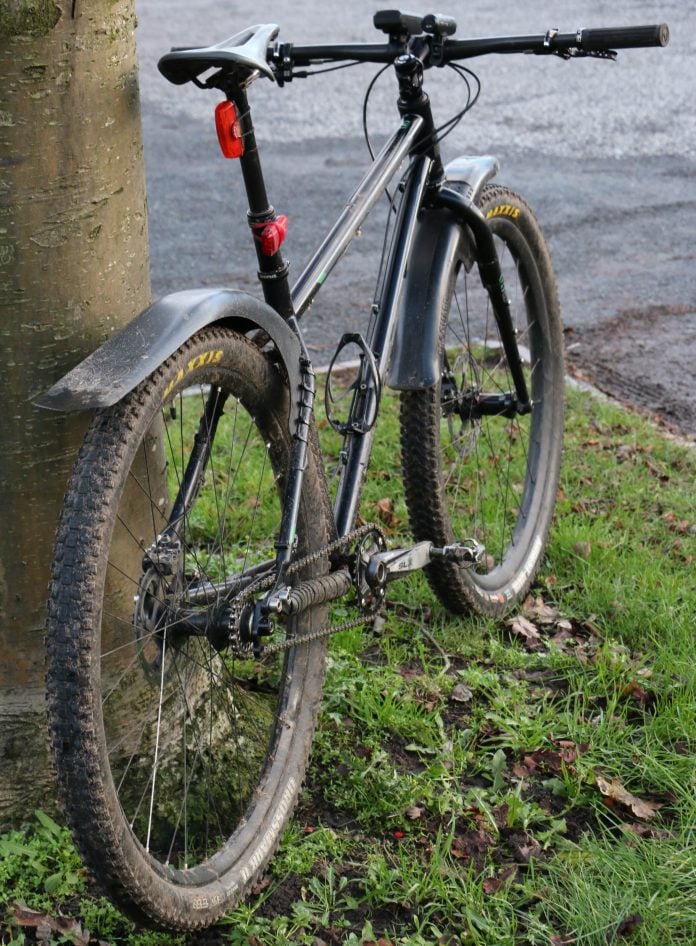 1. Plan the driest route possible
Commuting in winter can be a thankless task and with the rising price of fuel more and more people are turning to bicycles as their means of morning transport. Making small changes and investments in the way you commute can massively contribute to your happiness throughout the working day.
If you can alter your route to avoid heavy traffic, you will spend less time stationary in the rain, you'll get less road spray from trucks and cars and you'll probably be safer in doing so! Even if the route is longer, arriving at work warm and dry will make all the difference in the winter time. You can get away with it in the summer, where kit and gear drys off quickly, but once those cold and damp winter days set in the state that your riding kit arrives at work is most often the state it departs from work in – unless you can find a free radiator to dry it on. And of course, the biggest advantage of picking the driest route possible is that it'll save your bike from excess road grime and subsequent wear. It's for this very reason lots of dedicated commuters go for a single speed set up for it's lack of moving parts and low maintenance.
2. Layer up
Adding more layers is always a good option. On most rides, I won't head out without a short sleeve baselayer regardless of air temp – height of summer or depths of winter the moisture-wicking properties of a good base layer ensure your skin can breath and that you stay dry. For winter riding we recommend an insulated long sleeve jersey or a windproof layer – something like the Shimano Evolve Wind Jacket. This jacket has a removable front insulation pad to keep your core warm on those crisp windy days, all while staying suitably breathable. It also has plenty of storage on the sides and on the rear, and uses a durable water repellent fabric to shed off light drizzle and road spray.
Gloves are next, with the main aim being wind protection. There are many strong offerings from various brands in the windproof sector, but from our experience Endura make some of the best you can buy. Designed and tested in harsh Scottish winters, they know a thing or two about the cold! The Endura Pro SL Windproof Gloves 2 are on the higher budget side of the spectrum, but their low bulk and comprehensive windproofing mean they're our go-to option.
Thermal Bib Tights come in all shapes, colours and sizes, but you can't go wrong with a high-viz fleece lined set to keep you warm and relatively dry. Pearl Izumi are the brand for these, their Amfib Thermal Tights are ideal. The chamois pad is very comfortable, the materials used create great breathability so you don't get that "stuffy" feeling while riding. The reflective elements on the back of the legs give you a little more peace of mind once the clocks go back and you're riding home in the dark.
The cherry on top that will make your commuting life drastically warmer is a dependable pair of overshoes. Keeping the cold off your extremities is THE key to staying warm, maintaining dexterity (which is important on a bike!) and actually enjoying your commute. There's not a lot that can go wrong with overshoes, however you should look for a pair that are insulated or fleece lined, waterproof and fit your specific model of shoe. If you commute on flat pedals the Endura MT500 Plus Overshoes 2 are a great solution. For road riders, we enjoy using the Endura Road Waterproof Overshoes. They're not the most heavily insulated overshoe, but their fit is perfect for a huge range of road shoes and being a properly waterproof overshoe means your'll never fear riding through puddles – in the UK it seems there's sometimes more puddles than tarmac!
3. Mudguards
Putting a physical barrier between you and your wheels will make a very noticeable difference to your enjoyment of your commute. Even a simple folding front mudguard (like the Burgtec BMG) will keep spray, mud and muck from flying up into your eyes. For a slight aerodynamic penalty, a full length muguard set will give you the most protection from the elements. SKS are one of the biggest names in fenders and the SKS Bluemels Mudguard set is a super high quality, full coverage solution that is super easy to fit. On the mountain bike side it has become somewhat unfashionable to run a rear mudguard if you're a serious rider or racer, and for good reason – the last thing you want is a large flap of plastic hitting the back of your legs on steep sections or bouncing around during the rough stuff. However, if commuting is on the agenda then the simple RRP Rearguard is enough to stop that constant stream of water that's kicked up off the back wheel soaking you through. As for the front there are lots of OEM mudguards from manufacturers like Fox and Rockshox on offer, but if you're after maximum coverage then the Topeak Defender XC1/XC11 is your best option.
On the whole, mudguards are simply irreplaceable solutions to the biggest source of misery in a cyclist's journey, so investing in a good set will ensure you arrive at your destination with a dry chamois and a grin on your face!
4. Think ahead
There's nothing more demoralizing than having to get up early, rush around to try and get your riding kit together, pack your lunch, and make it out the door only to realize you've forgotten a vital piece of kit like your phone or your keys. If you think ahead and plan everything the night before it'll save you loads of stress in the morning. Lay out your riding kit, make your lunch, leave all your vital items by the front door so it's impossible to leave them and do the "M" bike check.
By the time the morning comes, you'll get a bit of extra time in bed, and getting ready will be a breeze. All that will be left to do is enjoy the commute!
5. Bike Setup
In the colder months road conditions can change dramatically, especially in the UK so you need to make sure your bike is set up to handle what the roads throw at you. Running a lower tyre pressure than usual will afford you a larger contact patch, which in turn will mean you'll have more grip when things turn wet and icy. Softer tyres will also make the ride more comfortable too – commuting isn't a race at the end of the day so there's no need to run your chain gang pressure!
Higher volume gravel tyres like those from Vittoria, use technologies like Graphene to enhance the durability and puncture resistance of their tyres making them the perfect commuter tyre choice for those looking for fit-and-forget winter rubber. The Terreno Dry G2.0 is a great choice. Although it's a "dry" condition tyre, it excels on wet roads as it has far more tread depth than a normal road bike tyre. When set up tubeless the tough sidewalls with their anti-pinch flat belt will give you total confidence on pothole-riddled UK roads.