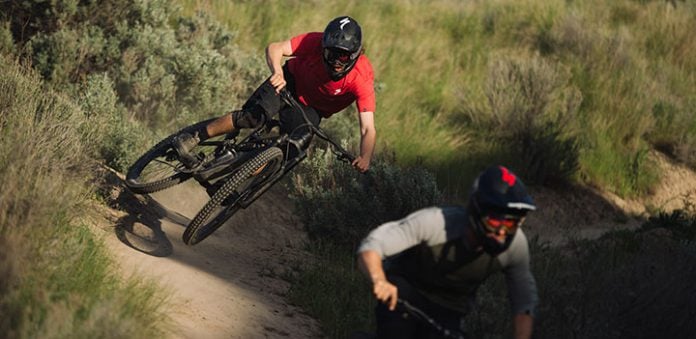 It's that time of year again, same day, same date & the 2018 Specialized Enduro Range is here.
"Why mess with a good thing?" Specialized said. But where some would comfortably rest on their laurels, they aimed to keep evolving. Claiming that the result of the new Specialized Enduro is the most fun you'll ever have on a mountain bike.
Having just been completely redone in the MY2017 range, Spesh didn't stop there. They've continued to adapt both the 650B and the 29er Enduros.
Both the 29 and 27.5 versions of the Specialized Enduro have had geometry and suspension changes in the new range. Available in black, black or black, the S-works Enduro has a vibrant variety of choices. Both versions have a slacker front end, a longer top tube, short chainstays, and a lower bottom bracket. Both of the platforms have grown in length, and Specialized think this gives both the 29er and 27.5 platforms more similarities.
A new flip-chip adjustment available on both models allows the rider to change head angle between a low & high setting as well as the bottom bracket height.
With all Enduro bikes becoming longer, lower, slacker it's clear that Specialized didn't want to fall behind the competition. Bikes such as the Kona Process 153 or the Giant Reign are really beginning to push the boundaries of the range.
New Features & Changes:
Longer reach (+5mm-19mm depending on frame size and model)
Flip-chip to adjust geometry – 8mm for Bottom Bracket
(Low setting slackens 0.5 degrees, granting the 29er a 65.5-degree head angle)
Stack shrunk 4mm
650B Enduro shock mount location changed for more progressive spring rate
Carbon rims on Pro models
800mm bars on all
S-Works models have Öhlins TTX Boost forks
Pro/Elite models have Öhlins StX Boost forks
SWAT CC storage compartment
New dropper post on S-Works, Pro and Coil models
2.6in Butcher tyres on the 650B models
12sp SRAM Eagle
Same Same but Different:
Threaded bottom bracket
Four Sizes: S-XL
170mm travel for 650B Enduro
165mm travel for 29/6Fattie Enduro
34.9mm seat tube
X-wing frame design
Boost 148
Update your 2017 Enduro
For anyone who has just invested in a 2017 bike, don't despair. The flip chip extension and new shock yoke are available as service parts. This means they can be retro-fitted and you you can upgrade your new purchase. You won't need to retune your shock, a great decision from Specialized!
And while most of the builds come as a complete package, similarly to other Specialized ranges the S-Works versions of both the 29er and 650b platform are also available as frame and shock, and not in black, black or black! They come in "Gloss stain chameleon/Hyper", exciting
Any negatives? Other than the hefty new price tag, we can't see too many.
All the Range: