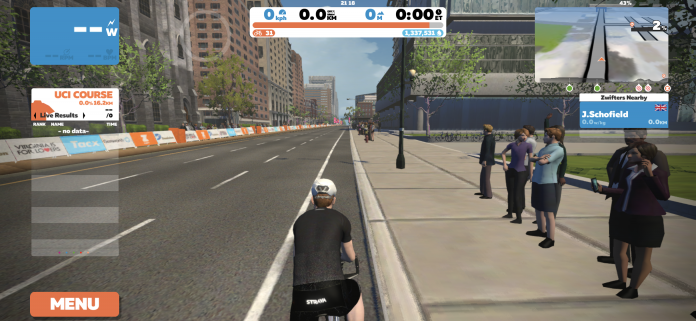 This morning there were nearly 30,000 riders on Zwift in a single session and it's the busiest time the virtual platform has ever seen. With tens of thousands of new people joining Zwift this month, online training has never been better. You can ride and race with your mates, explore new routes and have some fun along the way. It's easy to see why Zwift is becoming increasingly popular in the current scenario – we've listed a few top tips for you to get the most out of the virtual world.
— HOW TO LOSE WEIGHT CYCLING —
Try Everything
Make sure you get stuck in. It's great to try everything from virtual racing and time trialling, to riding up the Alp' Du Zwift. There's something for everyone in the virtual world, but you have to give everything a go to find it. Make sure you give plenty of ride ons and get involved chatting to people!
Ride all the routes
Every day Zwift runs a different world. You can see which world falls on which day in the calendar and you'll always be able to choose Watopia – Zwift's own made up world. There's plenty of routes in each world so you can choose everything from flat, steady miles to climbing 1000m mountains!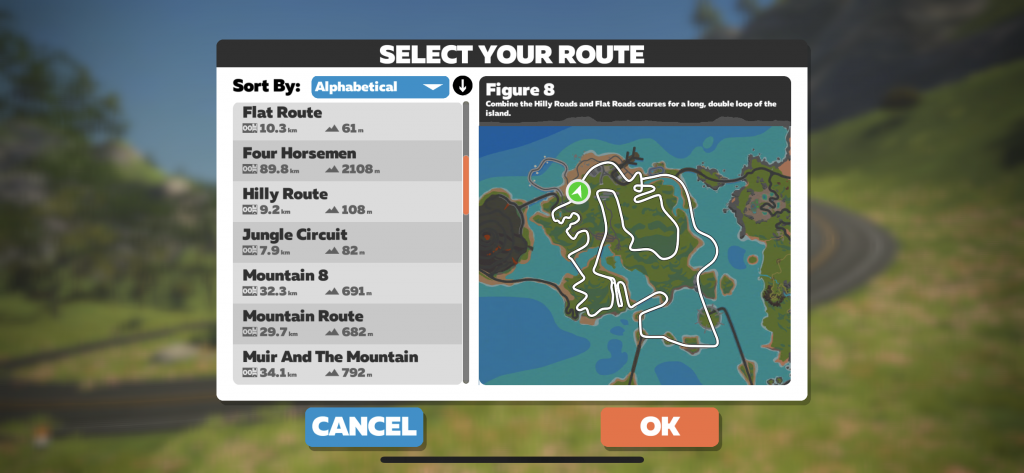 You'll be able to choose from London, Harrogate (Yorkshire), Richmond USA, Innsbruck and New York depending on the day. As well as Watopia this gives you a lot of different routes to ride!
— HOW TO STAY MOTIVATED THROUGH LOCKDOWN —
Chase Achievements
Zwift offers achievements for all sorts from power records to distance ridden and routes explored. You'll be able to find them in your mid ride menu and for some achievements you'll be rewarded with goodies! This is also the same when you complete the challenges.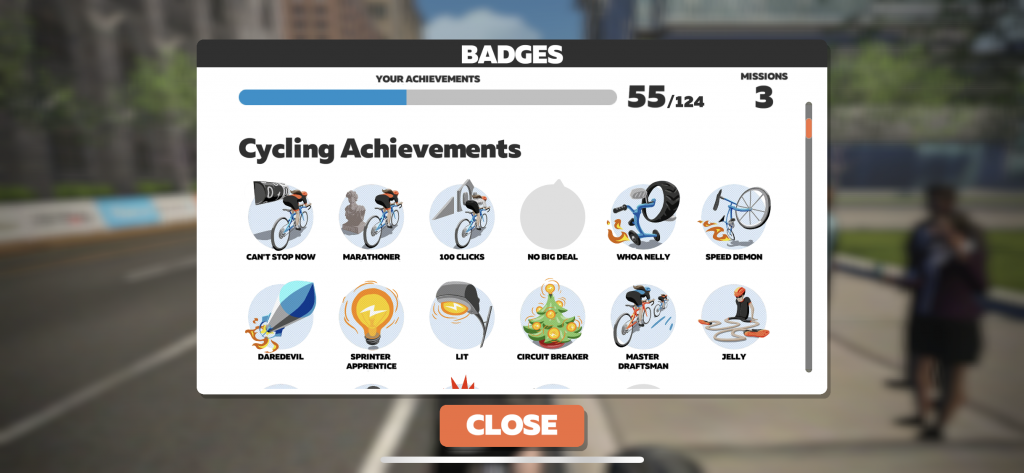 Use the sessions
Zwift has a great database of sessions for you to add some structure to your training and workout. Intervals are a great way to both keep you occupied and working hard rather than just riding around for the fun of it. Though it's definitely worth doing that from time to time! If you fancy something different to your normal route and chasing a few KOM Jerseys, then a session is a great way to go.
— INDOOR TRAINING ALTERNATIVES – GET FAST WITHOUT TRAINING —

Sign up for a training plan
Zwift can offer you a training plan depending on what your goal is. You'll probably have to do an FTP test so that you know your current power zones, but then you'll be able to follow a programme so you don't have to think much about which sessions you'll be doing when! It's like having a virtual coach to keep you accountable and moving forward.
Join a race
The Zwift racing is great. Lots of fun and a good hard workout, there's something for everyone. Races happen on all different time zones so don't worry if you can't get to the turbo at a certain time. Also there are different categories within the races so you won't find yourself racing a pro every time.
— TOP TIPS FOR INDOOR TRAINING —

This is the same for group rides. If you're looking for a new set of people to ride with, then a group can be a really social way to do this. A lot of people make new friends through the virtual platform, and get a new set of riding buddies.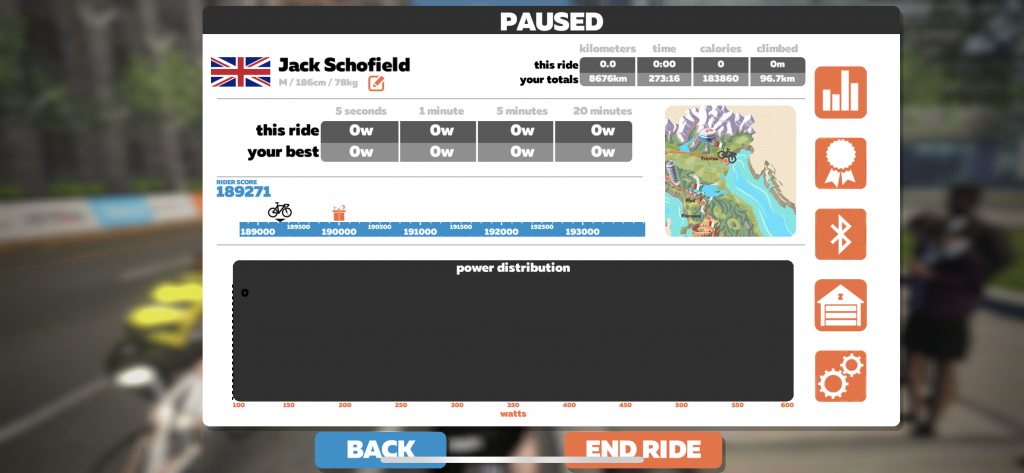 Sign up for missions
The missions run in the background and offer great rewards when you finish them. For example, if you complete the 50,000m climbing mission you get the infamous 'Tron bike' that you see so many people riding around. These give all your training and session a bigger goals to keep you occupied long term. Though the thought of getting back out on your bike and enjoying it should be enough to do that!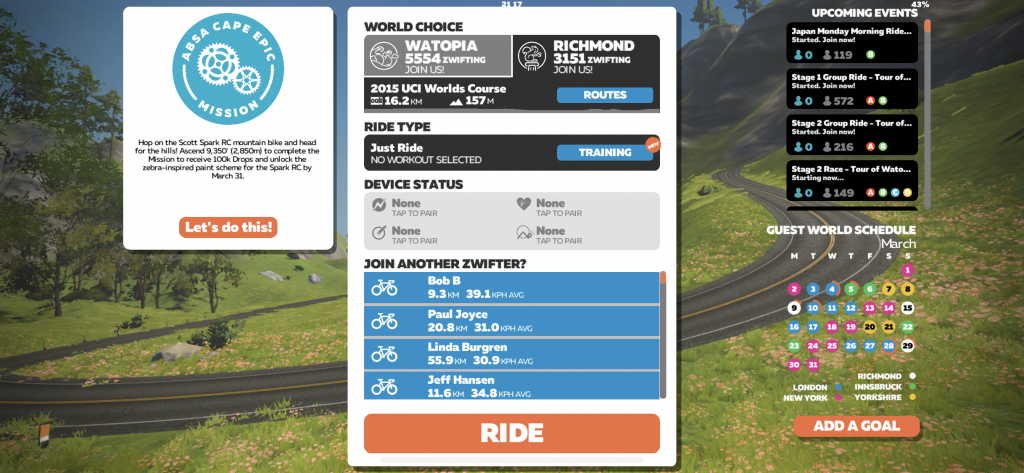 Learn to draft
Getting on the wheel and staying there is great fun. Zwift will tell you how many metres you have to make up to hold the wheel and then it should ease off – like in real life. It can take a few goes to get the hang of it and not bursting through and making a break for yourself, but learning to draft is fun and a good way to help you ride faster round the virtual world.
Earn new kit
There are a number of different ways to earn new kit while you ride around Zwift. You can get them depending on what gear and apps you have synced to the platform for example TrainingPeaks or Strava premium. Another way is to complete challenges and missions – these will offer new goodies as you finish them. 
— WHAT TO DO IF YOUR EVENT IS CANCELLED —
You can level up by earning XP which you get each KM and completed step on workouts. Each level will bring some new goodies. Finally the drop store allows you to accumulate drops as you're riding around that can be spend on new gear when you have enough. This makes it fun to fully customise your character in all the latest gear and best bikes – they'll help you move around the virtual world.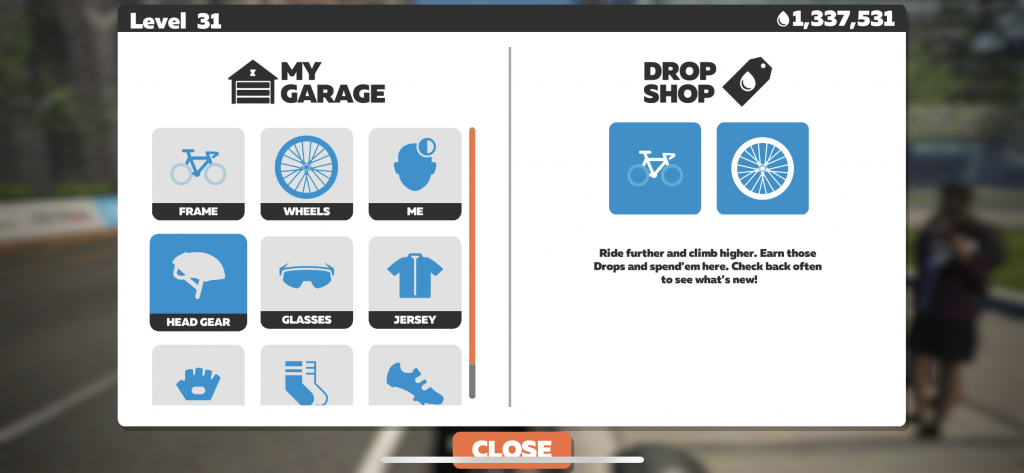 Sync up all your devices
Technology is king on this platform. Make sure you get everything you can synced up from your phone to your power meter. If you don't have all the technology, don't panic. It's really easy to get Zwift set up in an affordable fashion so you can get out and ride on! Enjoy.