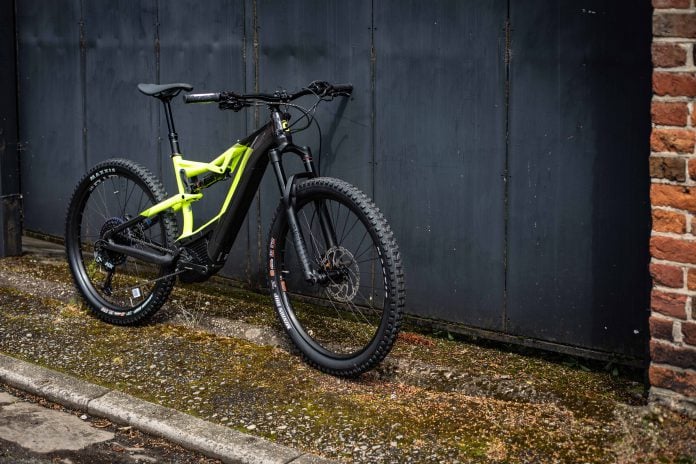 With e-bike sales growing week to week and new technologies constantly being released. It's no surprise that Cannondale have been developing bikes to accommodate that. The Cannondale Moterra was the first electric mountain bike from the brand. The Cannondale Moterra Neo 2 is a great upgrade, this mountain bike is high quality before you consider the added bonus of it being electric.
— WHY E-BIKES ARE ACTUALLY FANTASTIC —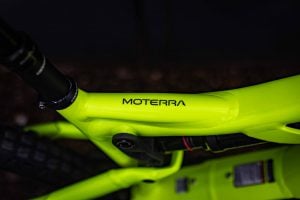 Consistently thinking outside the box, Cannondale aren't afraid to test the boundaries of what we think is "normal". With asymmetric designs, lefty forks and now a new game changing e-bike to add to the list, there's method to their madness.
Features: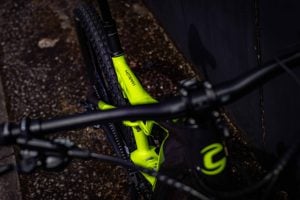 The Cannondale Moterra Neo comes with a 27.5+ wheel set, the bike is designed to make your trail explorations all the more enjoyable. The powerful motor will help you conquer the toughest climbs, while the wheel standard boasts high volume tyres for superior traction on loose ground.
— ALL YOU NEED TO KNOW ABOUT E-BIKES —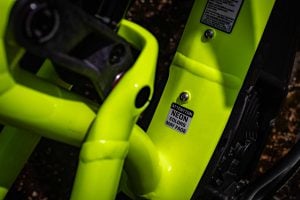 A Bosch power tube system is cleverly placed low on the Cannondale C1 Smart Form alloy frame to provide the e-bike with the best possible handling. This low, central position offer great agility and stability. It's integrated into the down tube for a sleek aesthetic keeping the bike uncluttered. Short short chain stays give the bike extra response.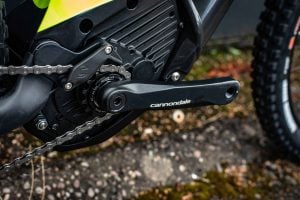 SRAM 12-speed gears combine with Shimano hydraulic disc brakes for superb mechanical performance throughout. With a dropper seat post and dual suspension, this is an all-out trail monster that just so happens to have a top of the range Bosch motor on board too. 140mm travel on the forks up front is as much as you'd want. And quick handling comes from the 2.6″ tyres all contributing to the Moterra Neo's natural trail capabilities.
— IS MTB RACING GOING TO MAKE AN ELECTRIC SHIFT? —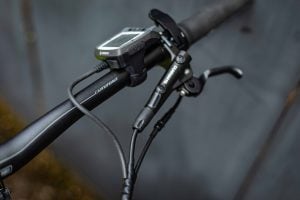 The Motor mounted in the optimal position for suspension performance which gives the Moterra Neo a chunky look compared to some of it's competitors. System integrated stiffness means this is an e-mountain bike that gives the rider the feeling of total control. The Moterra Neo also comes with SRAM NX Eagle 12-speed gears and Shimano hydraulic disc brakes to let you attack any terrain.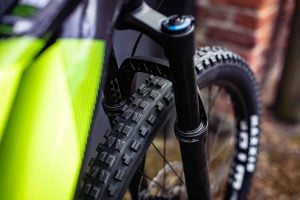 Sure, it's heavier than some "classic" MTB's when the motor isn't on or you're hammering down a trail. But will you really notice? Many mountain bikes can feel clumsy and lacking in precision, a result of their increased weight and power. The Moterra Neo brings together a modified single-pivot suspension, ECS-TC pivot thru-axles, and a wide 157 mm rear hub, so you'll enjoy the same rock-solid feel, but with added handling and control.
— ELECTRIC BIKES TIMELINE – PAST, PRESENT & FUTURE —
Verdict:
Not at the cheap end of the market, it'll be worth the investment. This is mountain biking — Supercharged! With a low center of gravity, killer stiffness and ideal weight distribution the Moterra Neo handles incredibly well. You wont just climb like an electron-fueled god — you'll rip, rail and shred like one too. Don't let the lack of youth or fitness hold you back, change to an e-bike!
Performance -

88%

Value -

76%

Aesthetic -

86%

Durability -

89%