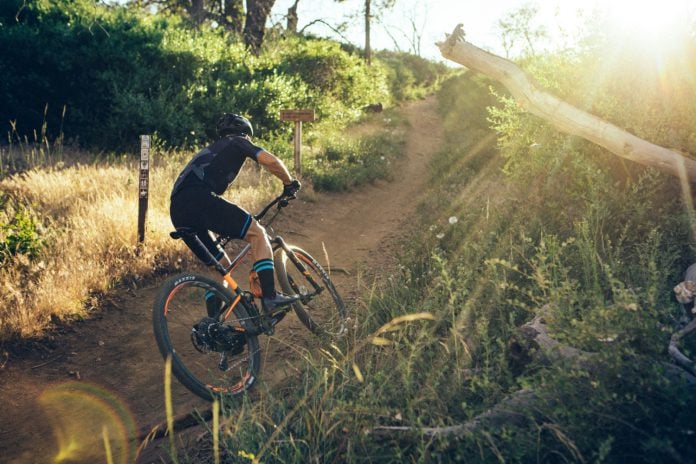 Well priced, understated & regularly at the top of tests, Giant have been getting it right for a number of years. It's no surprise that they're the World's biggest retailer of bikes both road and mountain. You may have seen our blog post on the Giant Bicycle company earlier in the year. If you missed if you can catch up here.
Established in 1972 in Taiwan by a businessman and his friends, these guys are no stranger to the game. Now worth roughly 2bn USD, they really are bicycle Giants. We've had a look at the full 2018 mountain bike range.
— YOUR COMPLETE GUIDE TO GIANT'S 2018 ROAD BIKES —
Gravity/Downhill
Glory
Giant's downhill mountain bike section comes in the form of the Glory. Neither of the options are cheap, starting at £3,999 for the Glory 1 and the advanced option weighs in £500 more. They've both been devolped over a number of years with the Giant Factory pro's to offer them every advantage over a fraction of a second. Ridden by Marcelo Gutierrez to multiple world cup podiums – it's no stranger to a down hill course.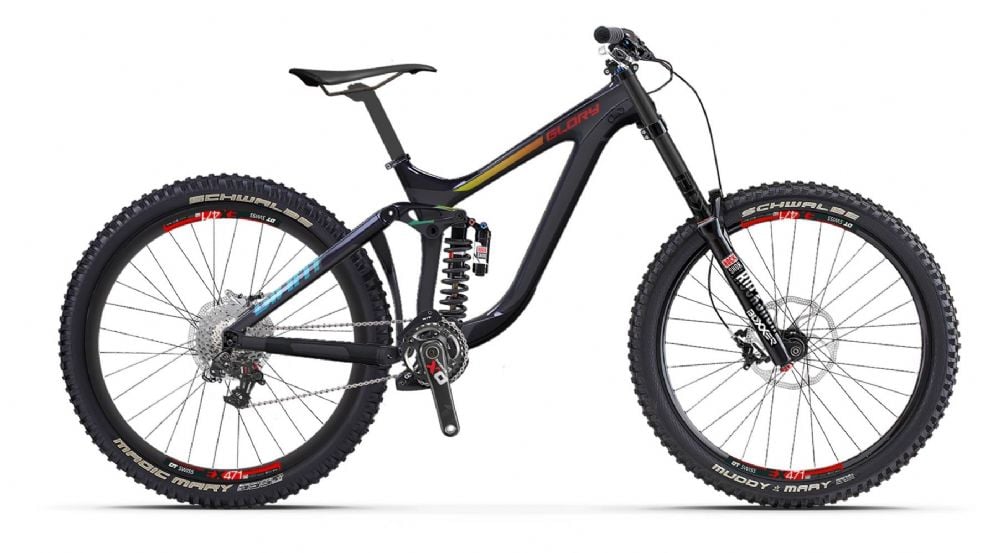 Coming with slightly different colour schemes & a different set of components, you'll have to decide which is for you. Both of the bikes feature just over 200mm of suspension along with super light advanced frames. Choose between 7 & 10 rings at the back & either Giant or DT Swiss wheels.
Buy If: You want a full down hill mountain bike rig.
Enduro/Trail
Reign
Reign Advanced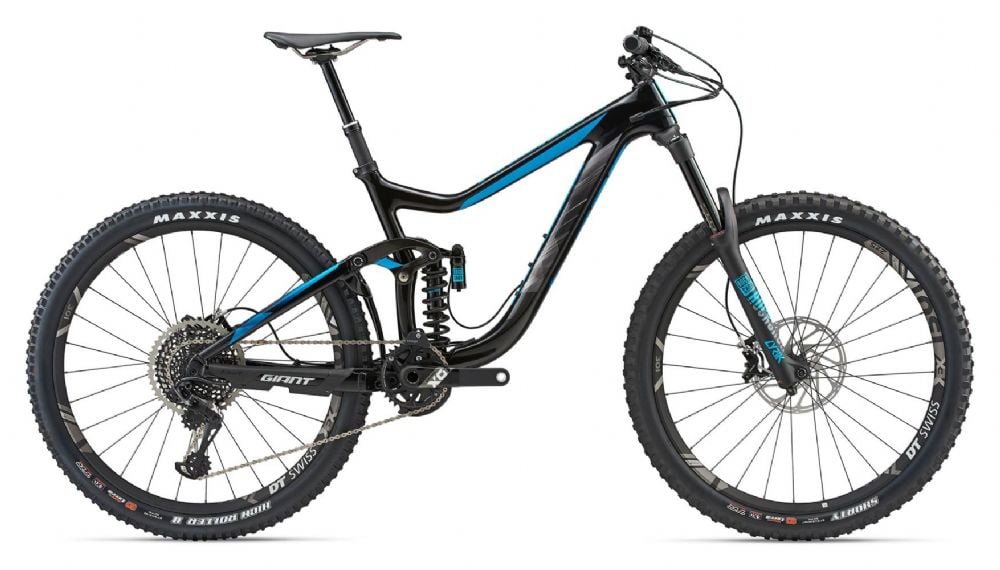 Certainly not at the cheap end of the market, the Reign Advanced comes with two options. One is the reign advanced 0 – the all singing, all dancing enduro bike from Giant. Retailing at £6,499 it comes with all the top end gear you'd expect it to. 27.5″ DT Swiss wheels are accompanied by a SRAM X01 Eagle drivetrain & SRAM Guide hydraulic disc brakes. Along with RockShox Super Deluxe Coil, Contact Switch S Dropper and 160mm RockShox Lyrik RTC Solo Air fork.
With 160mm of travel the reigns now get all the features that were originally only seen on the Trance. Carbon rocker, metric, trunnion & Boost all feature on the reigns. Both of the advanced models are carbon.
Buy If: You want a carbon enduro race bike with 160mm of travel.
Reign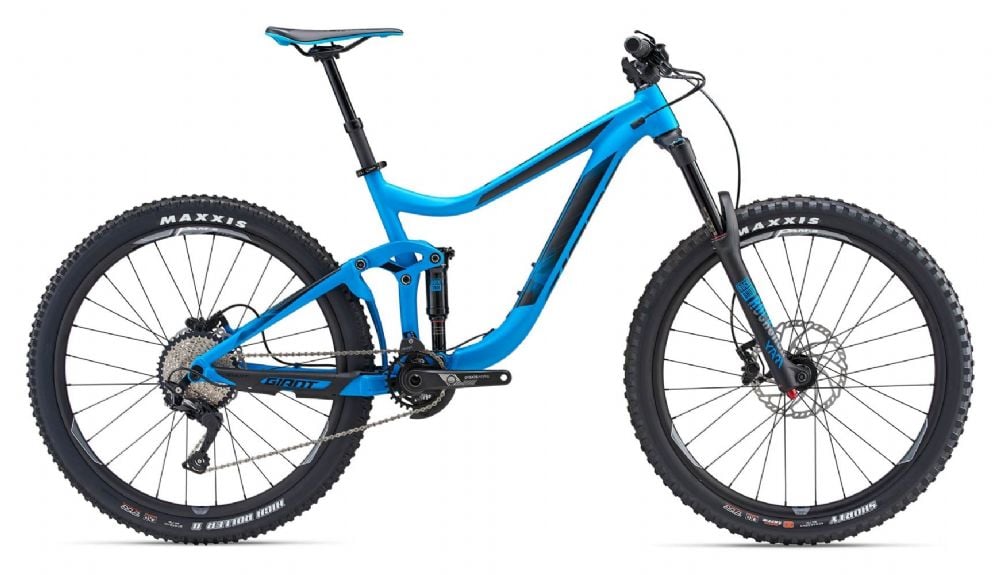 The normal Reign comes with a much more affordable budget. Made with an alloy frame, it also comes in two options. The more expensive version of the bike is the Reign 1 at just over £4,200. Although the Reign 2 is over £1500 cheaper at £2,649. Still with the new rocker arm seen in the other models, the geometry has seen an update to lengthen to cockpit & taper the OverDrive steerer tube. The Reign is great for trail adventures.
Buy If: You want similar features to the Reign Advanced on a budget.
Trance
The Giant Trance is classic 27.5in wheel trail bike full suspension that comes with 140mm of rear travel (150mm fork travel). The new Trance comes with a whole range of modern features like Boost, trunnion metric shocks and carbon rocker linkage. Updated from 2018 to features shorter chain stays & a longer top tube the new trance handles much better over aggressive terrain.
Trance Advanced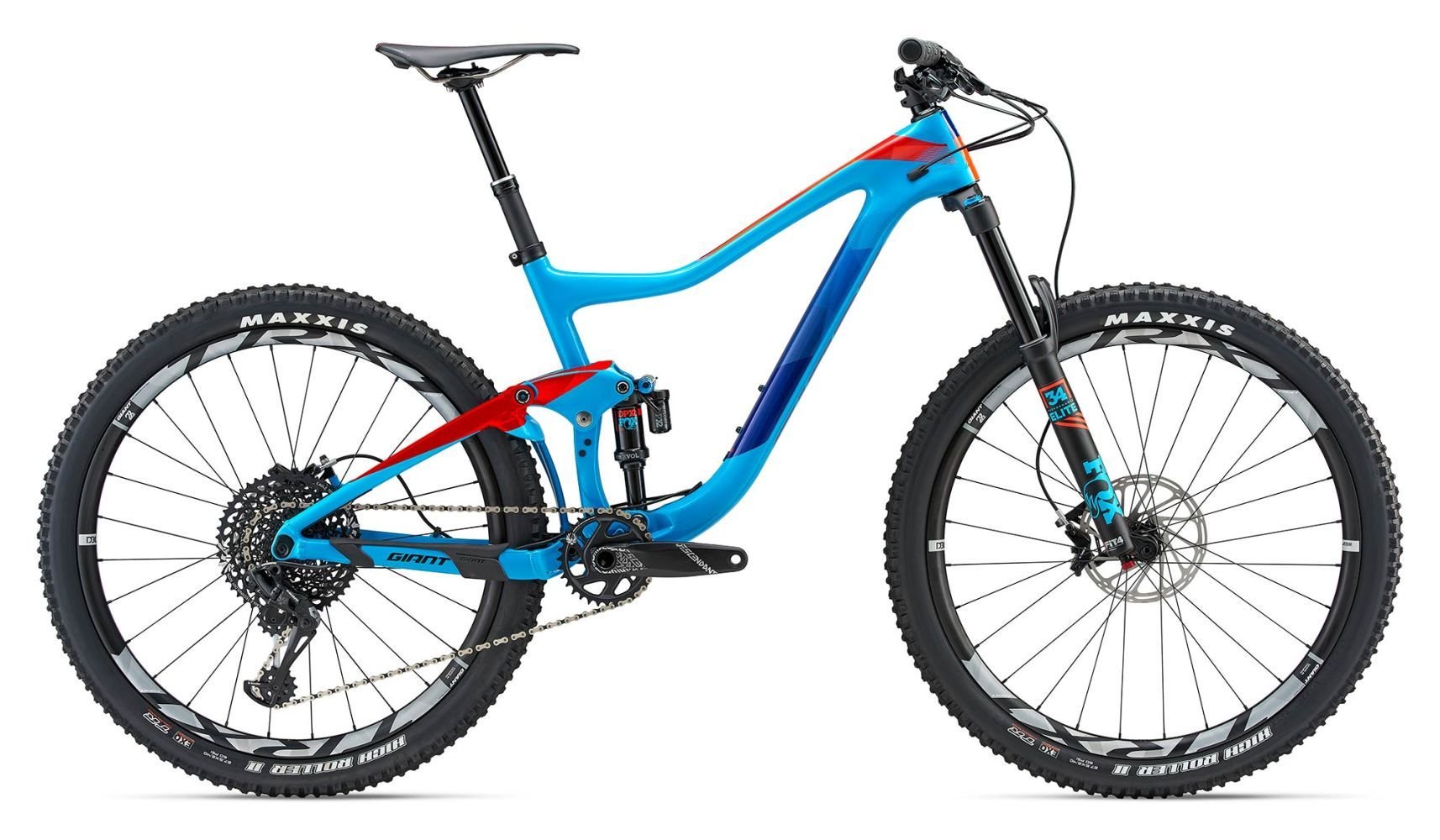 All coming with the same Advanced-grade composite main frame with 140mm of Maestro suspension. The forks, wheel systems & drive trains vary from bike to bike as you'd expect. The top end bike comes in the form of the Trance Advanced 0 and retails at £6,299. Complete with Rockshox top end forks & rear shock, Giant's TRX 0 Composite wheels & SRAM X01 Eagle drive train – it certainly won't let you down. The Trance Advanced 2 weighs in at £3,549 and comes with kit to match. Interestingly it's cheaper than the Trance 1 – so it depends where you want to spend your money.
Buy If: You want a classic trail bike with a cutting edge frame & components.
Trance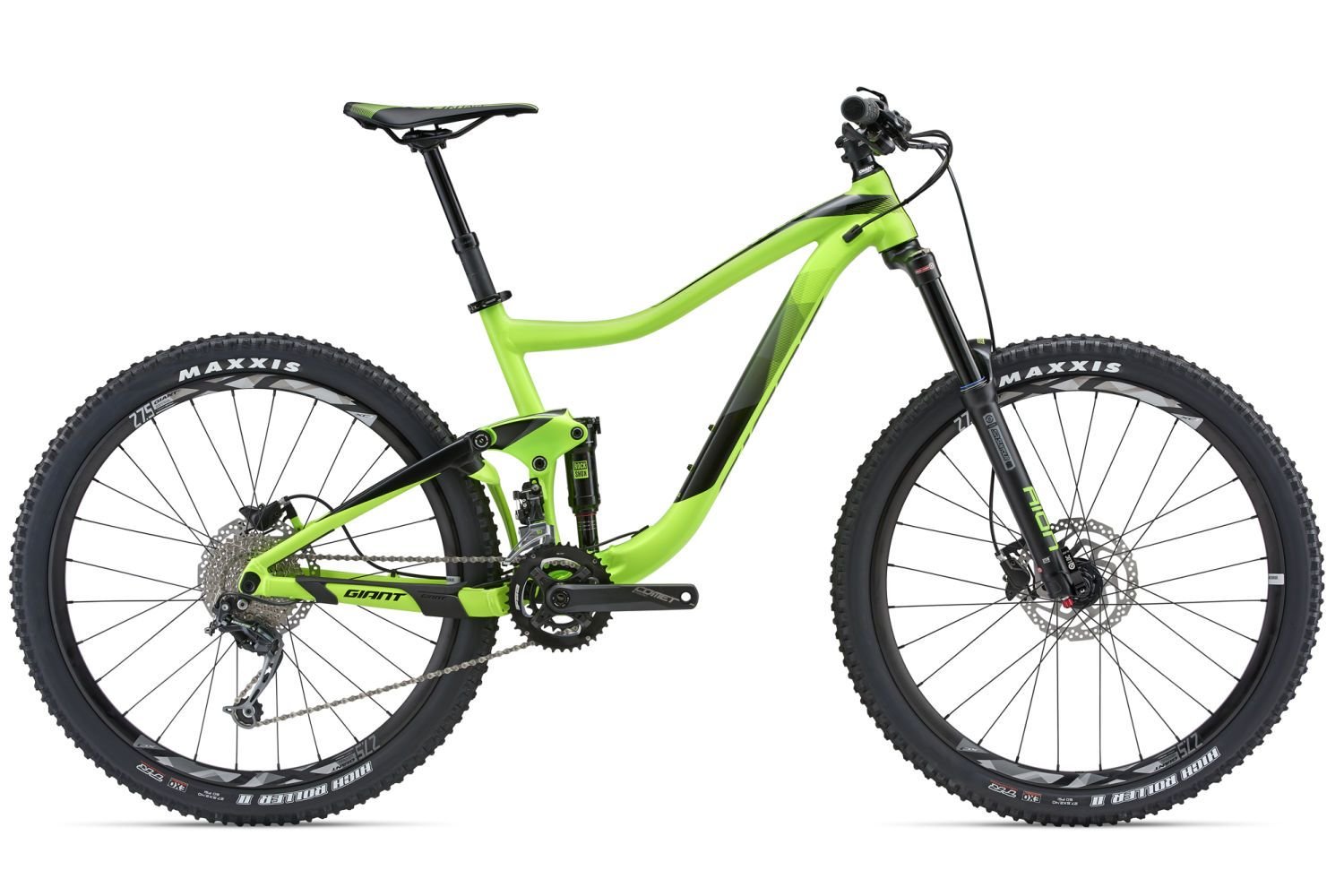 As with many of the Giant bikes, the Trance is a budget edition of it's parent bike, the Trance Advanced. But that doesn't mean they've cut any corners on this mountain bike. Featuring a lot of the same engineering, Giant have just offered more affordable alternatives to suit you. Starting at £1,749 with the Trance 4, the top end Trance 1 comes in at £3,599. Available in four options, the Trance comes with an ally frame making a total of 7 bikes in the Trance range.
Buy If: You want a well engineered, classic trail bike in a more affordable price bracket.
Sport Trail
Talon
Available in both 27.5in and 29in wheels the Talon perfect fits the gap from the entry level bikes up to the middle of the hardtail range. More stand over and an overall more confident stance makes the overall geometry a bit more compatible – allowing it to push the limits further. Still only tipping the scales at £849 you can get your hands on a talon through the bike to work scheme, along with some gear. Available in six options, 1, 2 and 3 for both size wheels. The frame of the Talon is a lightweight aluminium that offers great stability for any rider.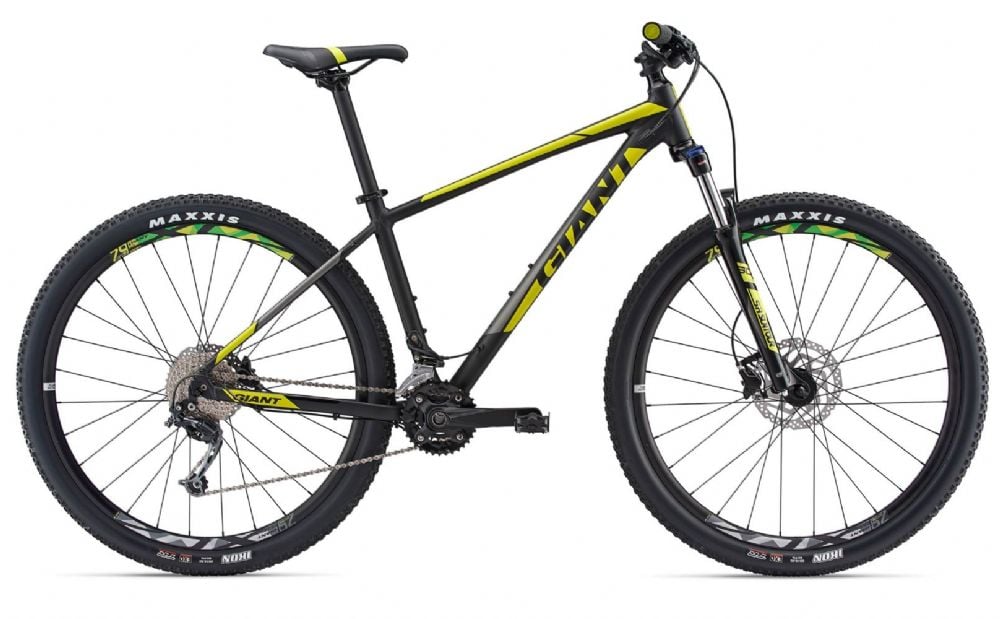 Buy If: You want an affordable hardtail confident on single track rides.
ATX
Giant's entry level cross country hardtail comes in the form of the ATX. The ATX models retail at £374 and £424. Both very similar with regard to frame and specifications. As a beginner you'd feel at home on both of these bikes, although if you want something slightly more adventurous, it could be worth saving your pennies and buying a Talon.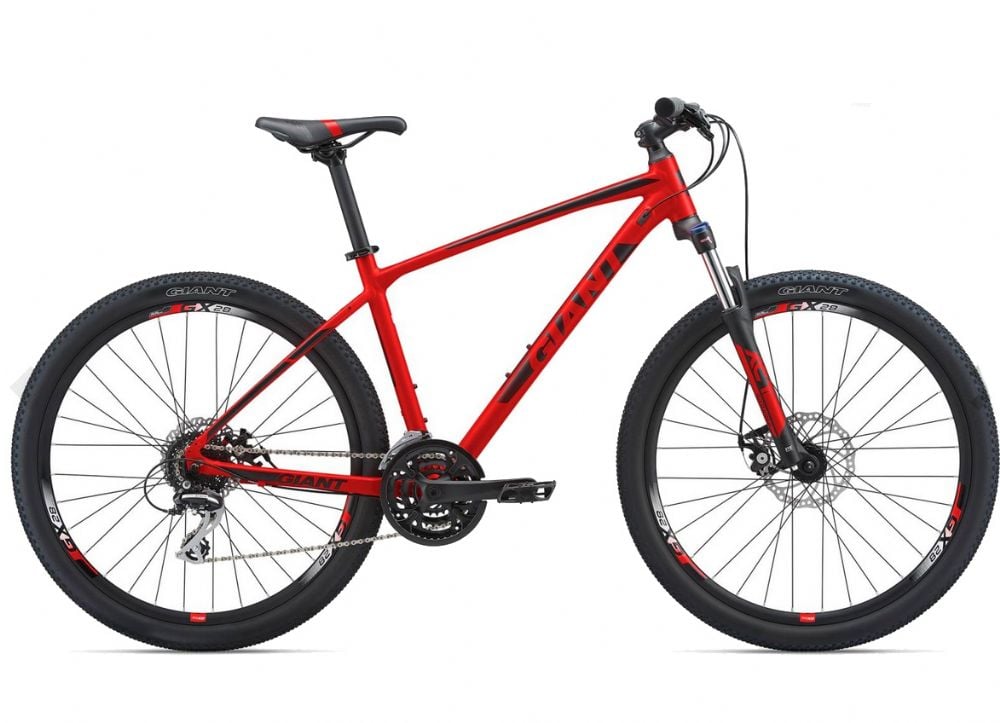 Buy If: You want the most basic cross country hardtail with a price to match.
Stance
Only available in one option, the stance is a full suspension bike designed purely for singletrack. The entry level full suspension bike comes with a great spec. An aluminium frameset accompanies a FlexPoint rear suspension along with dropper seatpost. The bike comes with 120mm of travel and the bike comes with 27.5in wheels. Retailing at £1,349 the bike is the perfect singletrack companion.
Buy If: You want a full suspension bike capable of all your singletrack needs.
XC/Trail (Full Sus)
Anthem
Giant's full suspension cross country race bike comes in the form of the Anthem. Available in both 27.5in wheels and 29in. The Anthem is built to handle agressive trail riding as well as the cross country. Available in both alloy & carbon, the Anthem covers a lot of the spectrum.
Anthem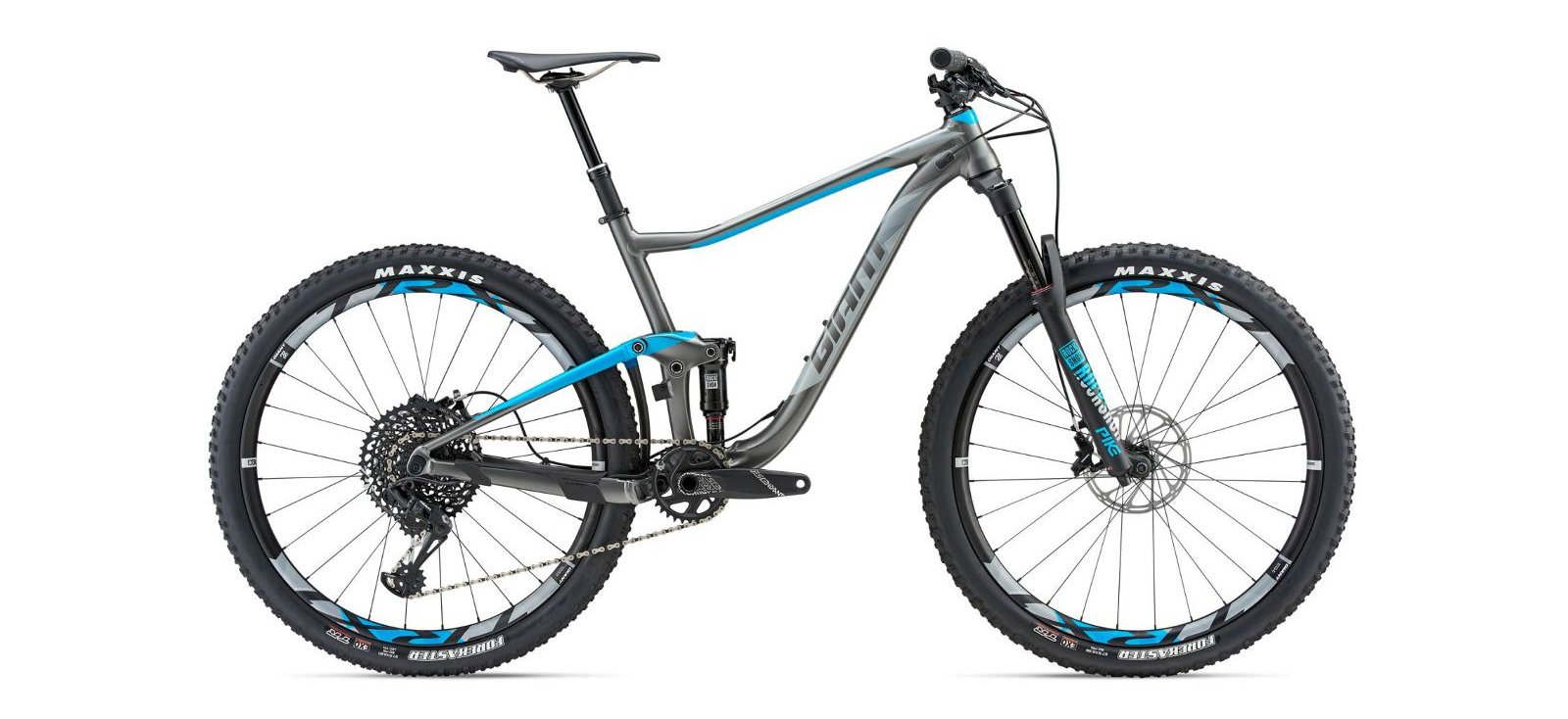 Starting at £1,899 the Giant anthem comes with 110mm of rear travel and an upscaled 130mm fork at the front. Available in three options these XC racers come with a variety of specs. You can pick the design that suits you with the Anthem 1 retailing at £3,449. Complete with SRAM GX Eagle, RockShox Pike RC Solo Air & RockShox Deluxe RT Trunnion Mount, the rest of the bike is Giant's own systems. But don't let that put you off, Giant have carefully engineering the anthem to live up to all your expectations.
BUY IF: You want a full suspension 27.5in XC bike without splashing out on a carbon frame.
Anthem Advanced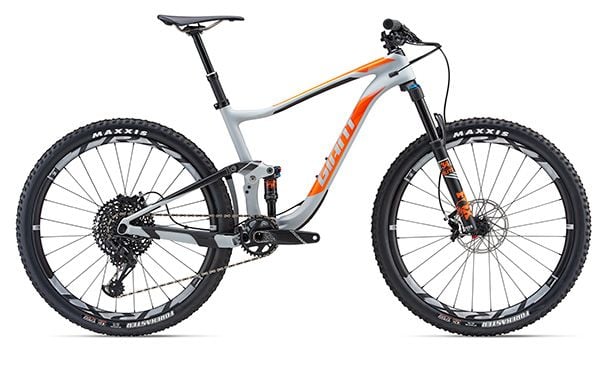 The top of the full suspension performance XC range, the Anthem Advanced comes with all the features you could dream of. Available with two 29er options and a 27.5in option. Two of the bikes come with a full carbon frame and swingarm. The advanced 29 features an Advanced-grade composite main frame mated to an ALUXX SL aluminium rear swingarm, a small step down from the flagship model. A slacker front, steeper rear geometry allows the bike to really tear up the trails. With the Advanced Pro 0 29er tipping the scales at 10.2kg, you wouldn't be hard pressed to find a heavier road bike!
BUY IF: You want Giant's flagship full suspension XC bike.
Anthem 29er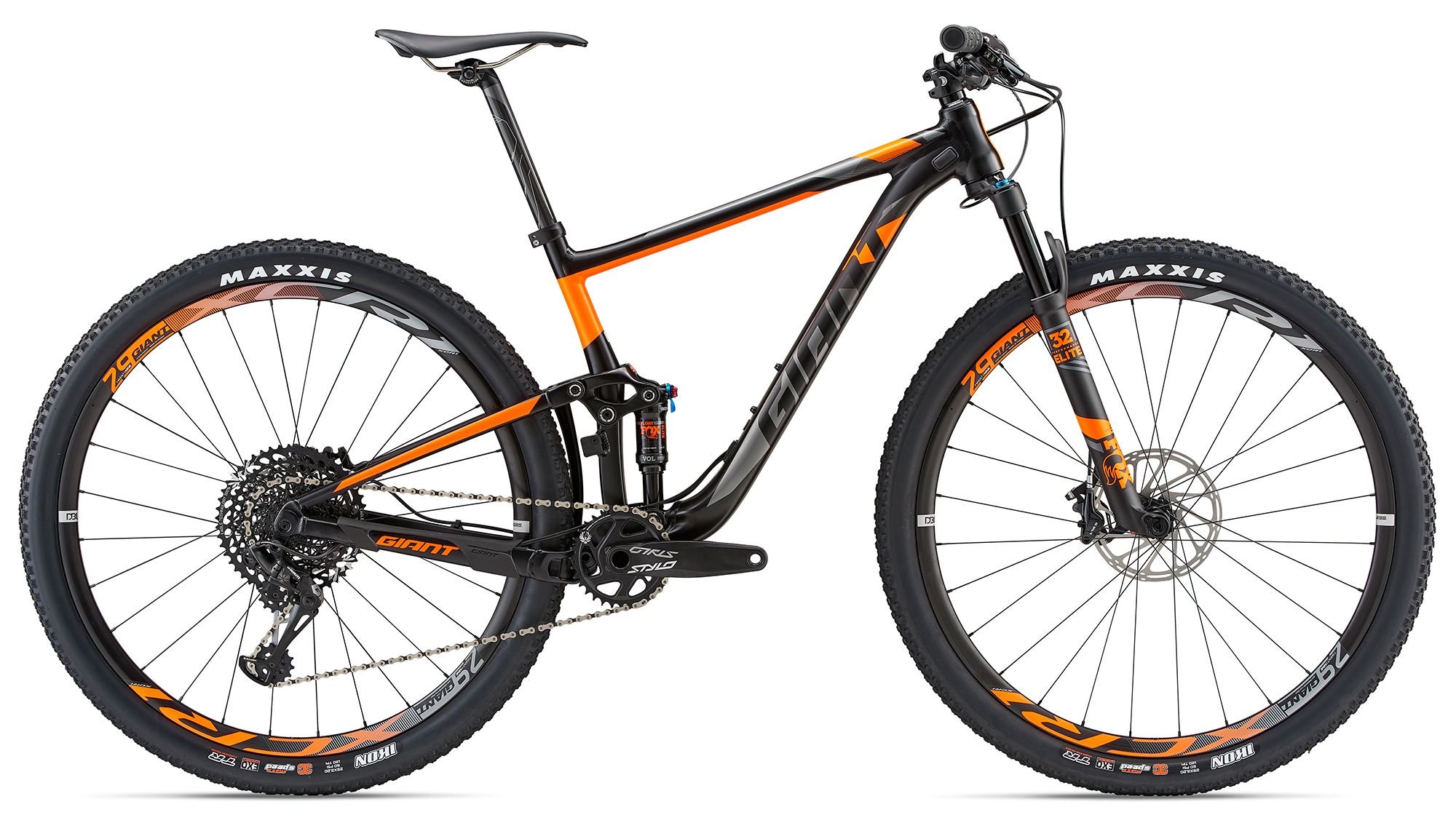 All three versions of the 29er come with the updated geometry; it's a bit slacker at the front with a 69-degree head angle and a steeper seat angle at 73.5 — 2017's bikes measured 71.5 degrees at the head angle and had a 73-degree seat angle. Lengthening the top tube & pulling an inch off the chain stays stops the bike twitching around underneath you.
BUY IF: You want a full sus 29er with updated handling abilities that begin to match it's 27.5in counterpart.
XC/Trail (Hardtail)
XtC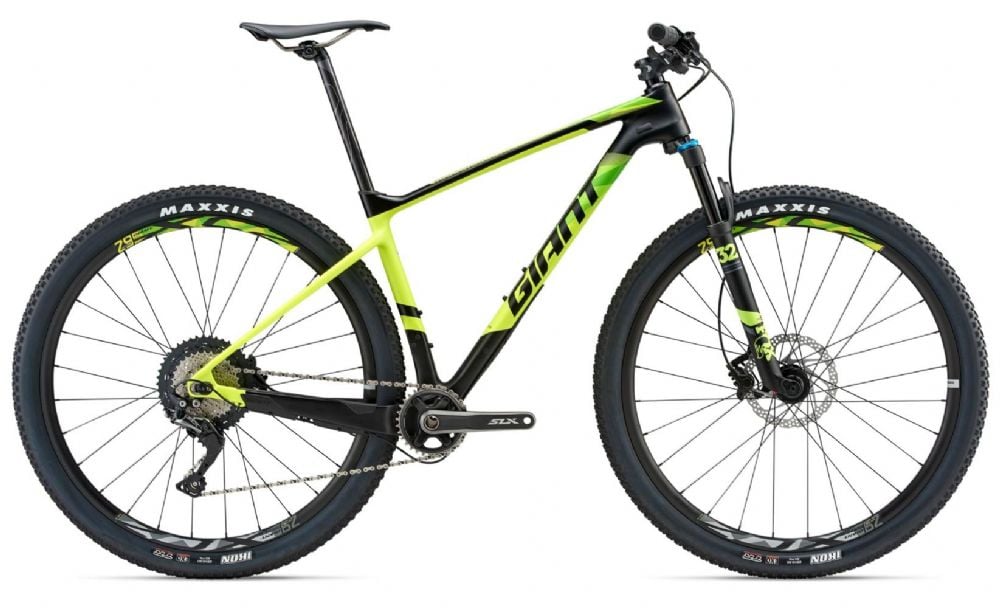 The best of the Giant hardtail range is the XtC Advanced. The advanced suffix shows that all these bikes have carbon frames. Available in 3 options you can pick between a 27.5in and two 29ers. The 27.5 has the feel of a racey trail bike complete with Plus tyres. Setting you back between £2,499 and £3,499 these bikes will do everything you want them to.
BUY IF: You want a carbon fibre hard tail ready to take care of business.
Fathom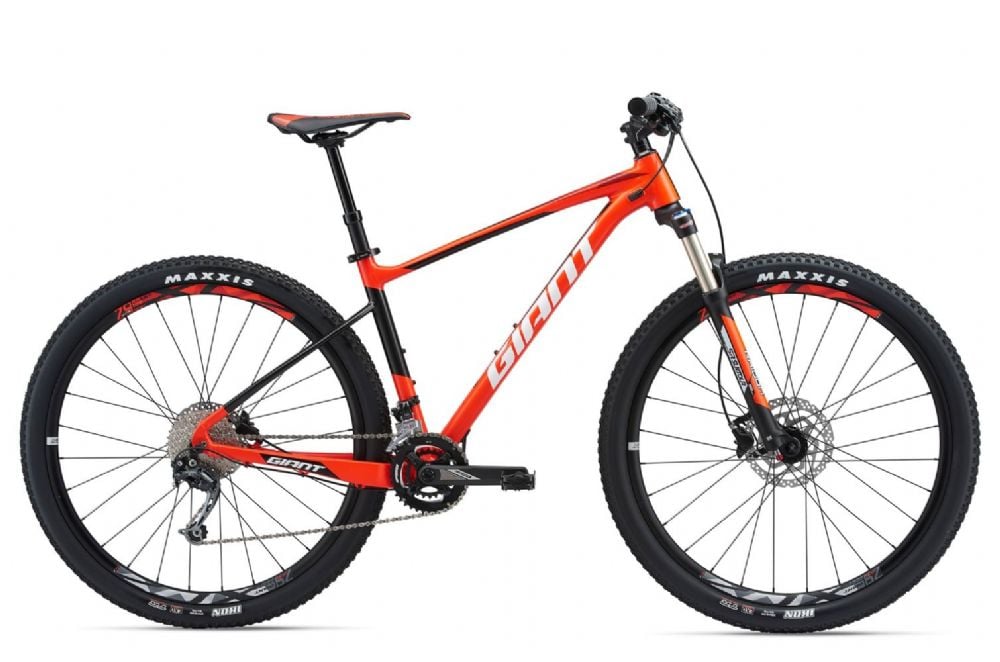 Available in both a 27.5in and 29in option, the fathom falls just below the XtC in Giant's hardtail category. Slightly more suspension travel than the talon but otherwise the geometry looks very similar. The difference is everything comes in a much higher quality. The Aluxx SL alloy frames are a much nicer material and the components will do much more for you. They come in more expensive between £899 and £1,199, but this barely scratches the surface of the XtC pricing.
Buy If: You want a high quality XC hardtail without remortgaging the house.
Liv Bikes:
Enduro/Trail
Hail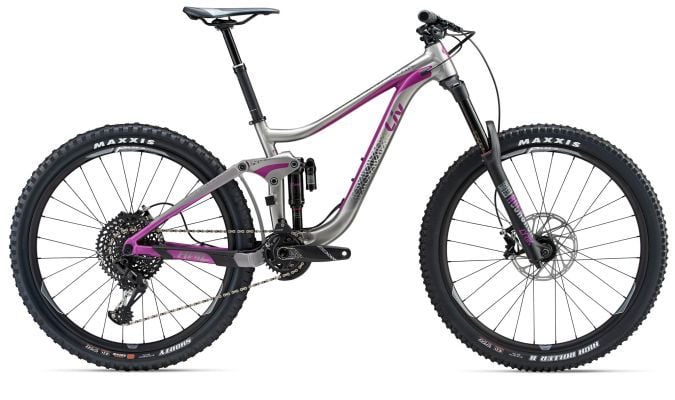 The full suspension enduro mountain bike of the Liv range the half comes with two available options. With 160mm of suspension the Hail is designed to handle whatever terrain you throw at it. Being able to handle steep & technical both up & down. The 27.5in wheels are accompanied by a frame that is designed to be lightweight to keep the bike nimble & playful. Available in two options, the higher spec will set you back £3,749 whereas the Hail 2 comes in at £2,799.
Buy If: You want a full suspension Enduro bike capable of handling whatever you throw at it.
XC/Trail
Pique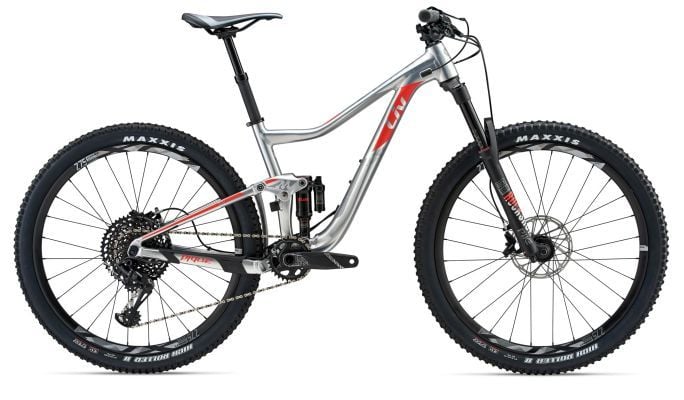 The Liv Pique SX is the top of the full suspension XC bikes offered by the Liv brand. Available in two options both bikes come with a slack head angle and a 130mm frame option. The new relaxed geometry and extra travel up front is designed for a more comfortable all round climb both up and down hill. Designed to handle well in tricky situations, either of the Liv Pique SX's would make a great XC companion.
Buy If: You want a top end XC bike regardless of price.
Embolden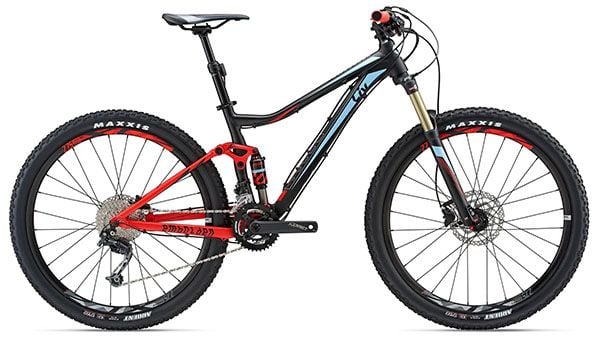 The more affordable option in the full sus XC range is the Liv Embolden. Retailing at £1,349 it's certainly cheaper than the other bikes – but that doesn't mean Liv have cut corners to end up with the spec they've chosen. 120mm of travel both front and back gives the bike good handling abilities.
Buy If: You want a full suspension XC bike on a budget.
— TOP TIPS TO BUY BUDGET BIKES UNDER £500 —
Sport Trail
Bliss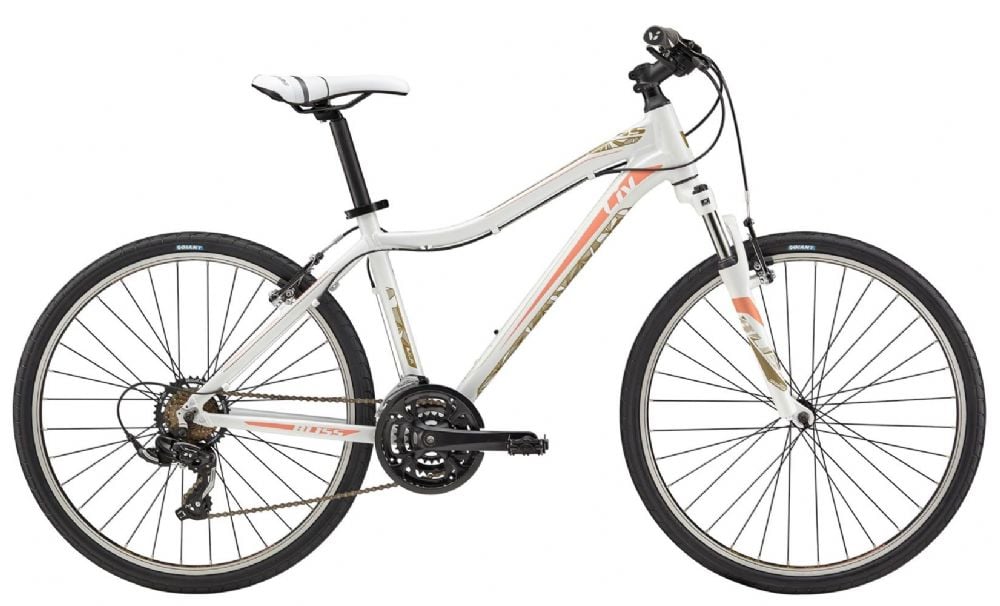 The Liv Bliss covers the sport & recreation sound of the mountain bike range. Falling in a very comfortable price bracket at under £500 for each model, you have the choice of 3 specs. All the bikes are hardtails and come with a very relaxed geometry. Liv claim an introduction to the freedom of cycling shouldn't be a heavy investment and have designed bikes to match. Integrated dropouts allow you to install a rack or add a kick stand to make this bike the perfect commuter or weekend adventurer.
Buy If: You want an entry level mountain bike to get your started.
Tempt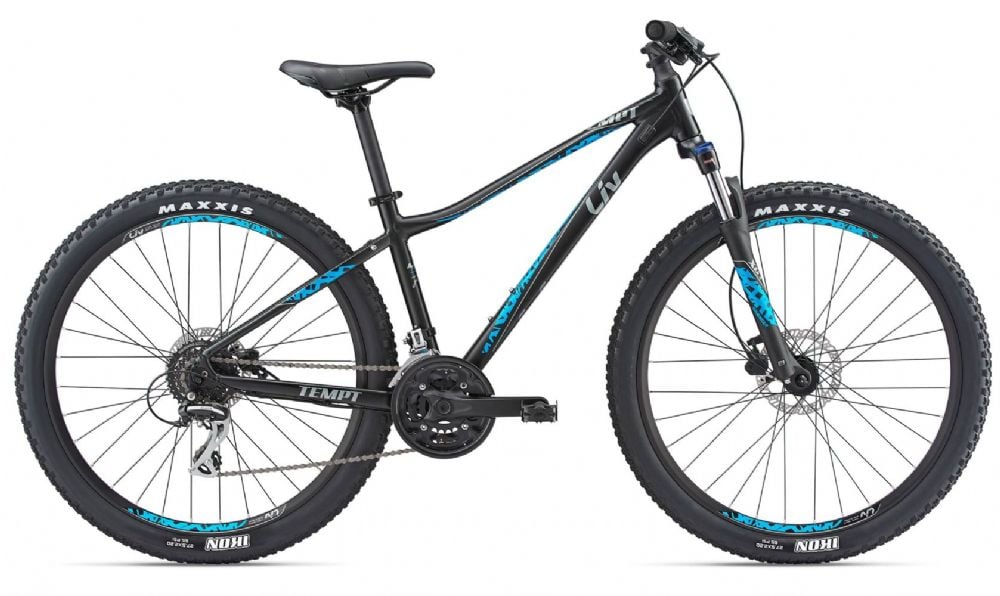 Available in 3 different options, the tempt is still under £1,000 with the most expensive model tipping the scales at £849. Ideal for both commuting and weekend adventuring, the Tempt is a great way to get our and explore singletrack riding. The hardtail comes with a low standover height and 100mm of fork travel to give a confident feel for new riders on the trails. Bike to school or open up a world of weekend mountain bike racing all with this bike.
Buy If: You want a XC mountain bike capable of whatever you need it to do under £1,000.
XC/Race
Obsess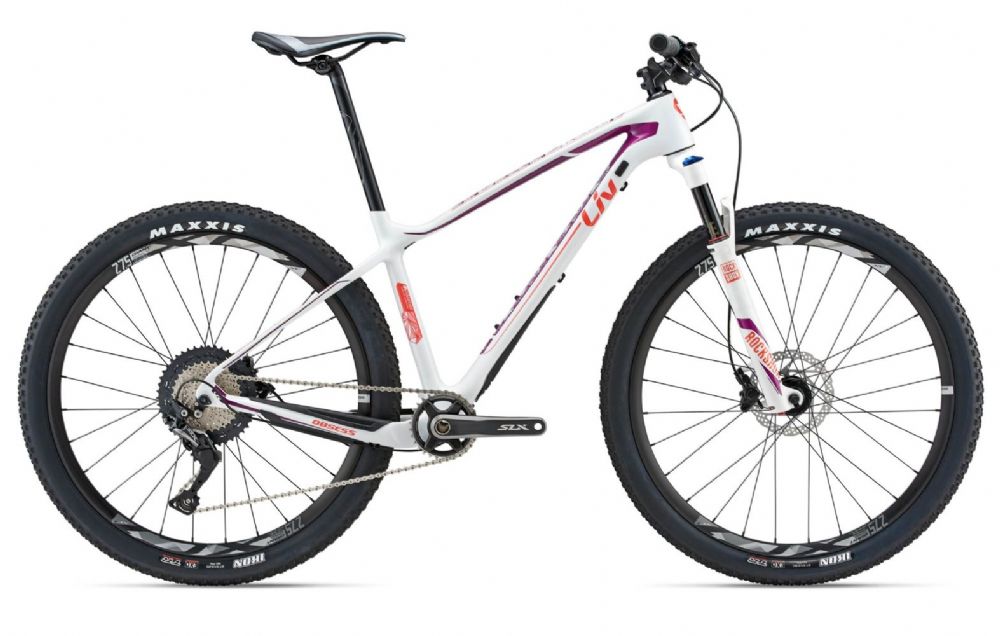 The perfect companion to break into the XC race scene, the Liv Obsess advanced features an advanced composite frame hand-crafted to proved the perfect stiffness for female riders. 100mm of front suspension and a 27.5in wheel to carry you over obstacles with ease. Agile & light this bike offers a great amount of performance for the pedalling power. Costing just shy of £2,000 this bike is the complete package.
Buy If: You want a XC race bike designed for women.
Electric Bikes
Complete with Giant's own SyncDrive motor engineered with yamaha and Giant's EnergyPak battery systems, the giant electric bikes have seen a massive development over recent years. It's no surprise they're fast becoming some of the more popular bikes to feature from the Californian company.
— ALL YOU NEED TO KNOW ABOUT ELECTRIC BIKES —
Full E+
The Full E+ is a full suspension mountain bike engineering with a strong, lightweight Aluxx SL aluminimum frame. 140mm of smooth rear suspension. 27.5 wheels and all new Boost rear hub spacing mmake it a great bike to ride on any adventure. The fork & frame are compatible with Plus tyres but the come with 2.6in tyres fitted. Complete with 4 models in the range, you can pick one up between £3,499 and £5,249.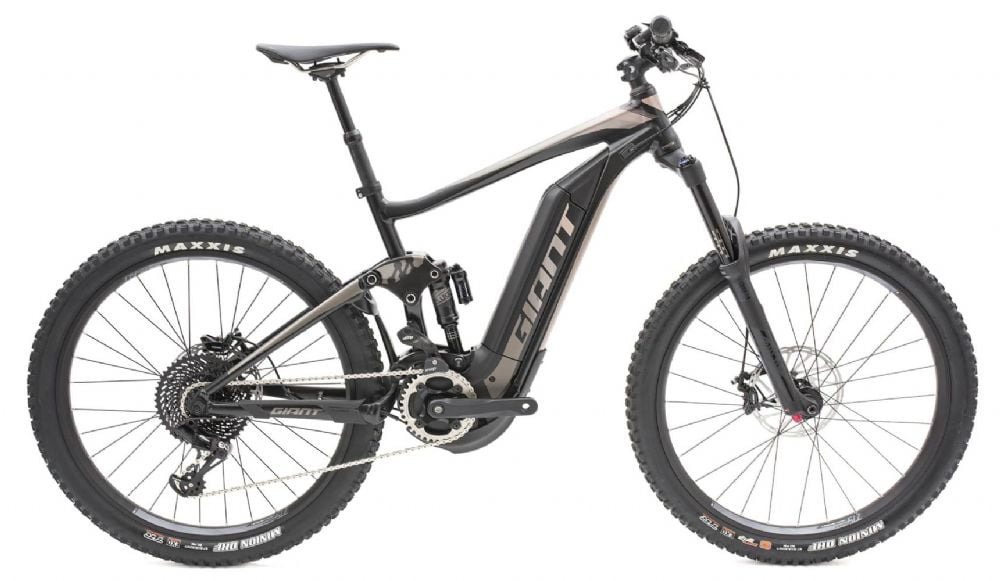 Buy If: You want a full suspension electric mountain bike that can keep up all ride.
Dirt E+
The Dirt E+ comes with 3 available models and a slightly more affordable price tag. The hardtail version of the electric bikes, the range comes with 120mm travel suspension forks and 27.5in tyres. Aimed more at the light end of mountain biking, they'd make a great companion for beginners & casual all round riders that want to get just that bit more riding out of the day. Starting at £2,299, the Giant Dirt-E+ 1 Pro will set you back £3,299 and is the top of the Dirt E+ range.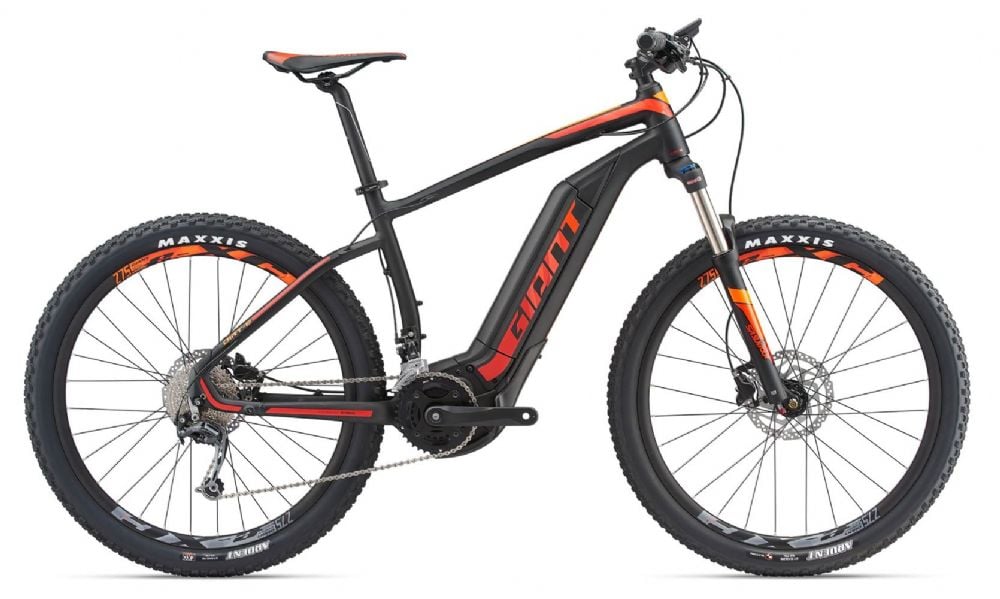 Buy If: You want an electric hard tail to keep you going longer.
Liv Vall E+
Available in two models, both of the Vall-E+ bikes are hardtail options. With only £600 separating the two models, they're closely priced as far as bikes go. Whether you're looking to ride fast, go further or regain fitness – the Liv Vall-E+ is a great companion. Both bikes come with 100mm/120mm suspension fork to smooth out bumps and bobbles. As well as lower standover's and an app that allows you to control the level of assist you want.
Buy If: You want a mountain bike that can assist you to ride, further, longer & faster.
| | |
| --- | --- |
| MODEL | PRICE |
| Glory Advanced 1 | £4,499 |
| Glory 1 | £3,999 |
| Reign Advanced 0 | £6,499 |
| Reign Advanced 1 | £4,699 |
| Reign 1 | £4,299 |
| Reign 2 | £2,649 |
| Trance Advanced 0 | £6,299 |
| Trance Advanced 1 | £4,299 |
| Trance Advanced 2 | £3,549 |
| Trance 1 | £3,599 |
| Trance 2 | £2,499 |
| Trance 3 | £1,899 |
| Trance 4 | £1,749 |
| Trance Frameset | £1,349 |
| Talon 1 | £849 |
| Talon 2 | £598 |
| Talon 3 | £499 |
| Talon 29er 1 | £849 |
| Talon 29er 2 | £599 |
| Talon 29er 3 | £499 |
| ATX 1 | £424 |
| ATX 2 Yellow (26″ & 27.5″) | £374 |
| ATX 2 Blue (26″ & 27.5″) | £374 |
| Stance | £1,349 |
| Anthem 1 | £3,449 |
| Anthem 2 | £2,449 |
| Anthem 3 | £1,899 |
| Anthem Advanced Pro 29er | £4,249 |
| Anthem Advanced 29er | £3,449 |
| Anthem Advanced 1 | £3,999 |
| Anthem 29er 1 | £3,499 |
| Anthem 29er 2 | £2,449 |
| XtC Advanced 29er 1 | £3,499 |
| XtC Advanced 29er 2 | £2,499 |
| XtC Advanced+ 2 | £2,299 |
| Fathom 29er 1 | £1,199 |
| Fathom 29er 2 | £949 |
| Fathom 1 | £1,199 |
| Fathom 2 | £999 |
| Fathom 3 | £899 |
| LIV | |
| Liv Hail 1 | £3,749 |
| Liv Hail 2 | £2,799 |
| Liv Pique SX 2 | £2,549 |
| Liv Pique SX 1 | £3,199 |
| Liv Embolden | £1,349 |
| Liv Bliss 1 27.5″ | £424 |
| Liv Bliss 2 27.5″ | £375 |
| Liv Bliss 3 26″ | £349 |
| Liv Tempt 1 | £849 |
| Liv Tempt 2 | £599 |
| Liv Tempt 3 | £499 |
| Liv Obsess Advanced | £1,999 |
| Electric | |
| Full E+ 0 SX Pro | £5,249 |
| Full E+ 1 SX Pro | £4,249 |
| Full E+ 1.5 Pro | £3,999 |
| Full E+ 2 | £3,499 |
| Dirt E+ 1 Pro | £3,299 |
| Dirt E+ 2 Pro | £2,899 |
| Dirt E+ 2 | £2,299 |
| Vall E+ 1 Pro | £2,899 |
| Vall E+ 2 | £2,299 |