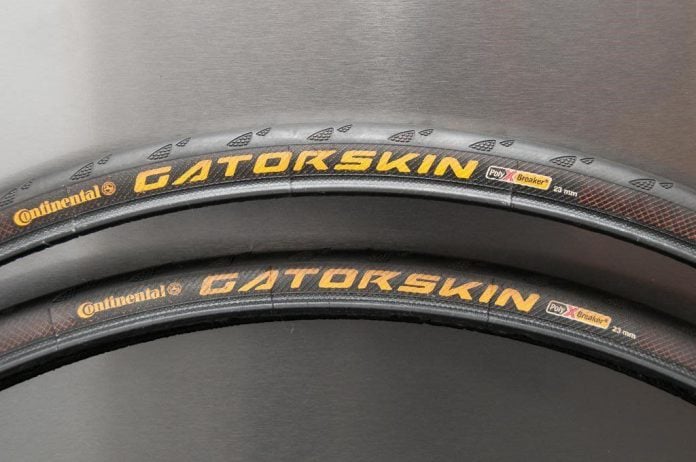 With so much choice of road tyres it can be hard to get the perfect one. With different sets for training, racing, ones that will do both, it's difficult to know where to start. We've been riding the Continental Gatorskin tyres, a fast enough road tyre certainly designed for training and not the racing end of the spectrum.
Released a fair while ago, the Gatorskin has been going from strength to strength. A bead-to-bead layer of Continental's Duraskin puncture protection helps stop cuts through the tyre. Continental are well aware that the Gatorskin isn't a top end race tyre, but that's not what it's set out to do. The tyre is slanted at commuting, training and even sportives. It's not a full winter tyre although many people do use it successfully year round without any issues.
Out on the Road: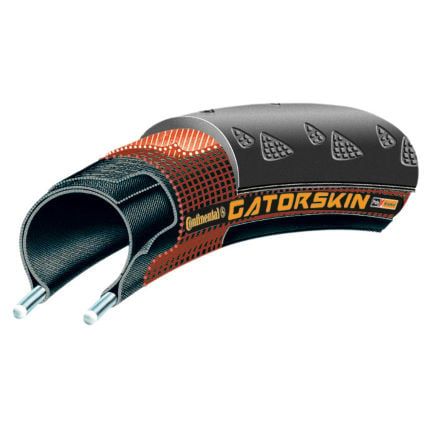 The tyre certainly doesn't handle like a race tyre. You can feel it's a lot firmer due to the reinforced sidewall but it's not sub par. The grip is firm but can feel slightly slippy into the bends, especially before they wear in.
There are rumours that people have done 5000+ miles on the Gatorskins before they'll bust on you. A guaranteed none puncture ride that can almost handle any terrain. From gritty trails to country lanes, the gatorskin is a definite security in riding. Signs of wear can be seen long before the tyre actually gives way, giving you plenty of warning that it's going to fail.
Our Verdict:
The Continental Gatorskins handle with the performance of a good quality road tyre. Unsuitable for racing but guaranteed to last you through your year round training. No matter what the conditions you can feel secure riding the Gatorskins on your daily commute, weekend sportive or in every day training. Security without the sacrifice of speed.
Speed -

69%

Value -

89%

Durability -

95%