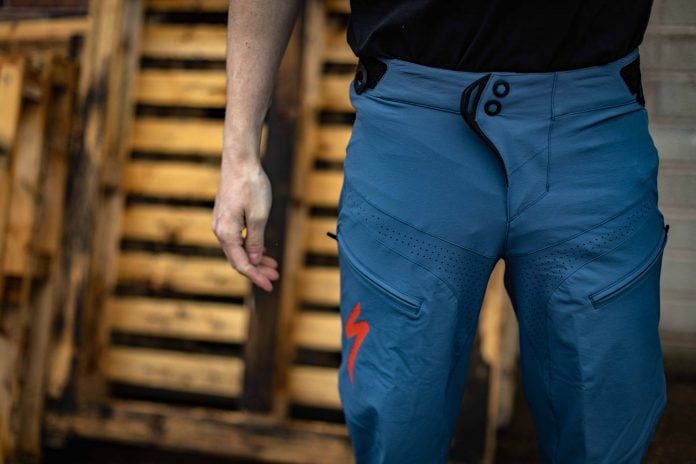 When it comes time to hit a track wide open you simply cant do any better than the Specialized Demo Pro Pants, or so they claim. We've all been stood at the top of a trail shivering & struggling to get warm. They Specialized Demo Pro Pants have got you covered.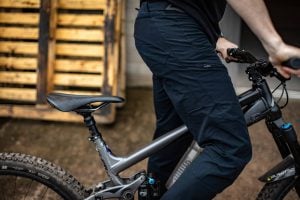 Often associated with downhill, the "Demo" label doesn't exactly line them up to be the most comfortable on the market, but they'll certainly surprise you. Extremely flexible, they look the part and people can't hear you rustling up behind them before they even get there.
The Features: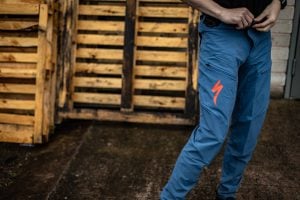 Specialized have made the Specialized Demo Pro Pant from a woven version of the lightweight and ultra-breathable VaporRize™ fabrics. As a result the pants are more than tough enough to take repeated spills while you're finding your line (or losing it) without sacrificing anything to comfort. These are treated to be water-repellant while remaining durable stretchy and lightweight for peace of mind on the mountain.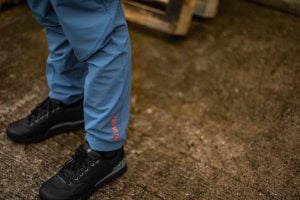 And to further this concept they also include laser perforated venting thats just as effective at dumping excess heat as mesh only it doesnt create a weakness in the overall strength of the pants. In essence this means that you wont find yourself blowing them out for a long time to come.
— SPECIALIZED ANGi COMP MIPS HELMET REVIEW —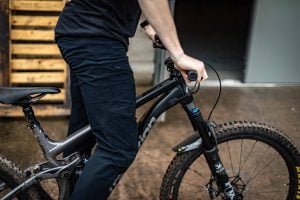 In terms of fit you'll find that these pants are plenty baggy enough to layer body armor and pads and there are side waist adjustment tabs that keep the waist where you want when the pockets are loaded. Velcro backs up the double poppers on the waist meaning that the closure is very secure – the last thing you want is your trousers falling down in the wet. At the bottom a tapered leg helps to prevent anything getting caught in the chain.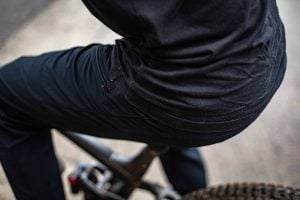 Lastly theres a removable pair of liner shorts that are equipped with Specialized's Body Geometry Mountain Chamois. The body geometry range has all been carefully designed around the data that Specialized collect from their Retul fits. The Body Geometry insert was designed to provide plenty of support to the body without being so substantial that it feels like its getting in the way. As a result the feel in the Specialized Demo Pro Pant is one of versatility and with the added touch of relieving soft tissue pressure while increasing blood flow you can all but guarantee that you'll be riding in supreme comfort.
— WHY E-BIKES ARE ACTUALLY FANTASTIC —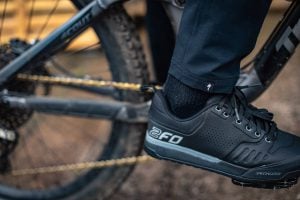 Three zippered pockets provide ample secure room to store everything that you need while you're out riding. So you don't have to worry about losing your valuables on the trail. Or riding the route looking for your car keys… we've all been there. Though the mesh makes it slightly annoying to carry keys in.
Available in both Navy and Black, there's something to match every outfit. The Aesthetics are sleek, modern and exactly what we'd expect from a market leading brand like Specialized.
— USING CAFFEINE TO BOOST PERFORMANCE —
Verdict:
Though not at the cheap end of the market, the Specialized Demo Pro Pant are absolutely worth the investment. Designed with performance at the top of the agenda, they're durable enough to last. You won't be left wanting any more features, all you'll want is another pair!
Value -

71%

Performance -

87%

Durability -

94%

Aesthetic -

86%