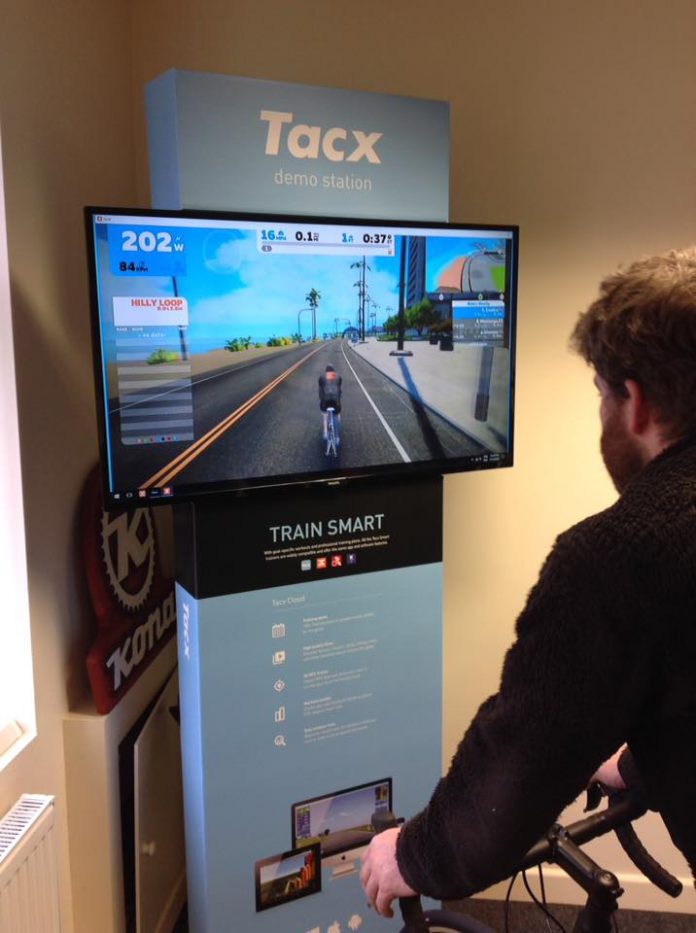 Its a suitably cold day to be talking about indoor training, no ice, no cleaning, no dilemmas about what to wear, simply get on and pedal. You check your time, only 2 minutes! I'm bored already! Well if boredom on a turbo trainer is familiar then maybe you should consider a "Smart" trainer from Tacx, with a range of interactive films and training via the free App or software you can keep yourself entertained whilst pedalling away the winter blues.
THE VIRTUAL TRAINING WORLD – ZWIFT.
Visiting the Alps in the summer? Then tackle the climbs before you book your flights, want to experience Paris Roubaix? Then ride it, with the right trainer you can even experience the cobble stones under your wheels, Ironman Bolton….that's on there too.
Tacx trainers are compatible with many other 3rd party Apps such as the increasingly popular Zwift, should you want to keep your group rides going from the home.
With trainers from just over £100 up to £1200 there is options for everyone.
Pop in for a ride on our Tacx Vortex Demo unit and see what all the fuss is about, the full Tacx range is available to view here.
Happy pedalling!