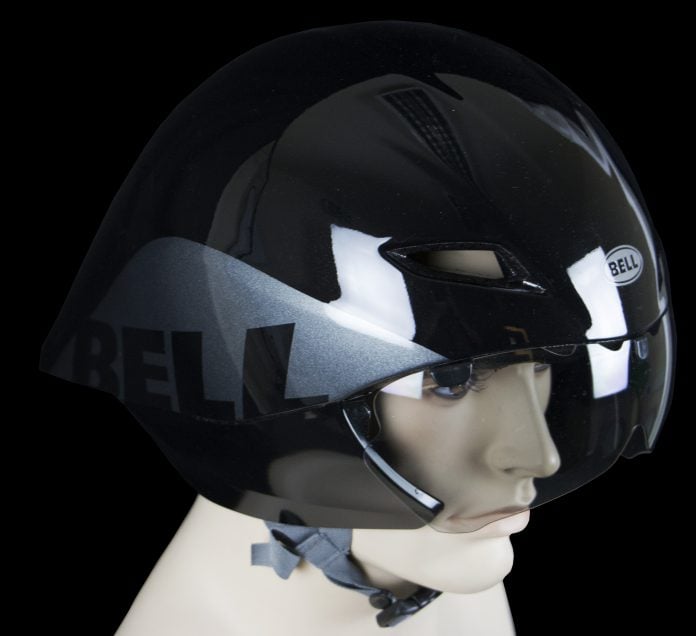 The Bell Javelin Aero TT helmet is the successor the Meteor, it is also a cousin of Giro's selector. Sharing the same DNA with as the selector has given it a dome like head and short tail, but doesn't quite pack the same features. Despite having apparently some of the best numbers recorded on the market, a real favourite among a lot of time triallists.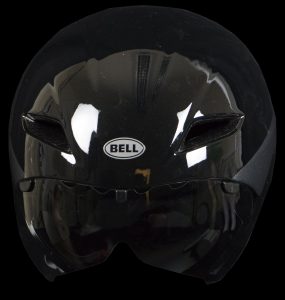 With decades of building helmets, we know that Bell will have made another great helmet for Time Triallist and Triathletes. Engineered in a wind tunnel this helmet is very well suited for the head up position and the tail sits close down your shoulders helping save those precious seconds. Unfortunately, Bell themselves haven't released any drag specifics so how fast this helmet is, is difficult to say. Although it certainly doesn't feel slow!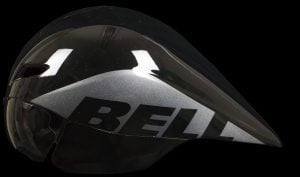 Weighing at 480g the Javelin isn't the lightest TT helmets out there, almost 150g heavier than the S-works equivalent but makes up for it in other areas. The comfort, cooling, and fit are above what you'd expect from a TT helmet and certainly needed for any longer races you participate it.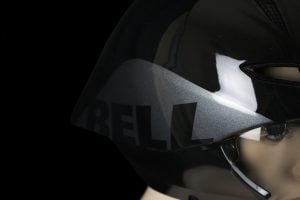 The Javelin has 3 different sizes available for it and each one has various height settings and can be adjusted. With the "SeamFlex" ear flaps getting this helmet on and off is easier and more comfortable than other aero helmets. Whilst these won't save any seconds on the bike for those of us who add a swim and run on our bike rides it certainly saves time at the transition stage.
For anyone used to TT helmets, the first thing to notice is how comfortable the Javelin is. That's because they have taken into account that helmets need not only have an adjustable circumference, but also a different height in terms of where it rests on the occipital lobe. By designing their Twin Axes Gear™ (TAG) fit system, Bell has made it so you can adjust this to suit your head shape and preferred helmet angle.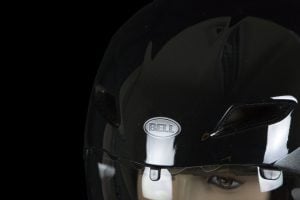 The Javelin is very user-friendly in that sense, the removable visor is another example. Bell provides a grey race shield, however, if you prefer to wear your glasses you can. They have designed the internal adjustment system to hit higher on the head to accommodate eye wear. So you can happily wear your sunglasses and not have the sides of your head being squeezed.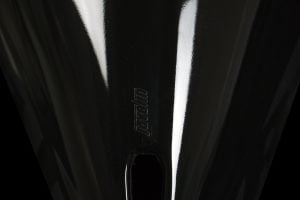 Bell also stick 3 vents into the javelin so your head can receive a breeze other than a vented visor. There are two vents in the front of the helmet itself and one exhaust vent at the back. This should keep your head a little cooler than other TT Helmets. Whilst this is less aerodynamic and you risk catching a buzzing creature in one of these vents it certainly is a welcomed addition. And with the X-Static Antimicrobial padding, it should help prevent it smelling like the inside of a gym bag so you just need to contend with any buzzing insects.
Since the hallmark of any helmet is how well it will protect you, anyone who wears a Bell helmet will have the benefit of their Fusion I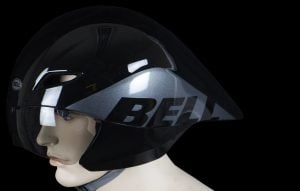 n-Mold Microshell, which essentially means that the fuselage and the EPS foam are moulded together as one piece rather than being two separate entities simply glued together. Bell pioneered this process, which ends up making the helmets sturdier and more effective at keeping you safe. So it meets the following certification; CE, EN1078, CPSC Bicycle.
The Javelin is well suited for TT and triathletes riders who would like extra comfort and better ventilation in there aero helmets. For this, the Javelin is very well suited whilst being a little heavier than other aero helmets it still a fast helmet that will save seconds and make your head that little bit cooler.
Aesthetic -

72%

Speed -

82%

Safety -

81%

Weight -

71%