Whether you've never even heard of Strava but are now thinking of joining the sporting social site – or you use it to record every single breath, you'll be able to get something out of our top tips.
With 16 uploads a second for 2017, it's very clear that Strava is fast becoming one of the largest social networks in the world. Some incredible stats make up the sites most successful year yet. The go to site to upload all outdoors activities in GPS or manual form, to ride with others, chat & compare training sessions and techniques – it's well worth joining if you haven't already.
— KUDOS, COFFEE, THANKYOU'S & BEER – STRAVA'S 2017 —
What many people fail to realize is that whilst it's fun to keep up to date with friends & meet new athletes, Strava is one of the most comprehensive training tools available. With everything from measuring fatigue to offering detailed analysis of sessions – you can learn a whole host of information about yourself.
1. Create A Story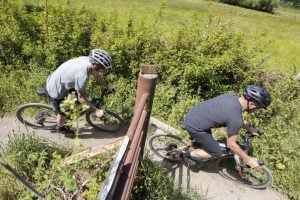 By adding fun titles to your rides and activities you'll be able to create and log your own personal story. This will bring friends and followers alike in to watch & see what you're up to. Changing the titles can be a great way to keep your feed engaging.
Not only this but you can add a description to the activity to give it a bit of extra detail. Everyone will then be able to see exactly how you were feeling for the activity.
2. Picture It
You can now add a whole bunch of photos to your activity to allow people to really start to share it with you. They'll be able to see where you were, what you saw, how muddy you got or even how much you were smiling. Add photos to the activity and let people share it with you.
3. Try A Challenge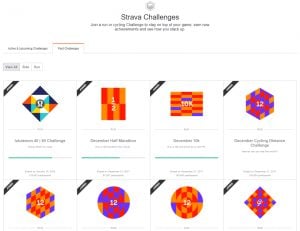 There's a whole bunch of monthly challenges that you can participate in & often different challenges will pop up throughout the year. You'll be able to win prizes & see how you stack up against friends from month to month.
It's important to note that usually only GPS data will count towards challenges, any indoor training will be void – even if you've got the best turbo trainer available. This is to stop any cheating going on behind the scenes.
4. Win A Segment
It's not as hard as you think to win a segment and become a king or queen of the mountain. If you don't think you have enough speed to target one of the main segments in your area, or something like Box Hill or Richmond park as often won by the pros – then target something more low key. Maybe there's a local segment near you – using the segment explore can be a great way to find this.
You can create a little competition between you & friends to see who can become the true champion of the segment. You'll get a notification if someone steals the title off you, so you'll be able to line it up & go again. Note that segments rendered at all dangerous won't have public leaderboards.
— AVOID COMMON TRAINING MISTAKES —
5. Keep It To Yourself
You'll be able to set up a privacy zone around your house to stop any local thieves seeing where you've got your bikes kept. This will stop your heat map & any segments in the area counting, though if you remove the heat map Strava will backdate your activities. So if you move house they'll appear when the privacy zone is taken down.
You can also change the privacy settings of who sees your information ride to ride. You can keep all your rides private so nobody has to see them if that's how you prefer it. This will also remove them from the public leaderboards. You can limit who sees your data to just friends or people that request the information. All this can be changed in your privacy settings.
6. Try A New Sport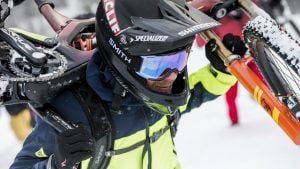 There's now a whole host of different activities for you to log right from your phone or smart watch. You can pick from rowing, skiing, running, eliptical training, weights among many others. Walking & hiking is becoming one of the most common activities uploaded to strava each day now – so you can branch away from cycling.
— THE VIRTUAL TRAINING WORLD – ZWIFT —
7. Add Your Gear
By adding different bikes & gear to your Strava account you can track which bike you were on when to give you friends and idea of what you were riding. This will also log the number of miles that the bike has done to know if it needs a service. Monitoring the life of tyres, chains, cassettes can save you money in the long run!
8. Draw Something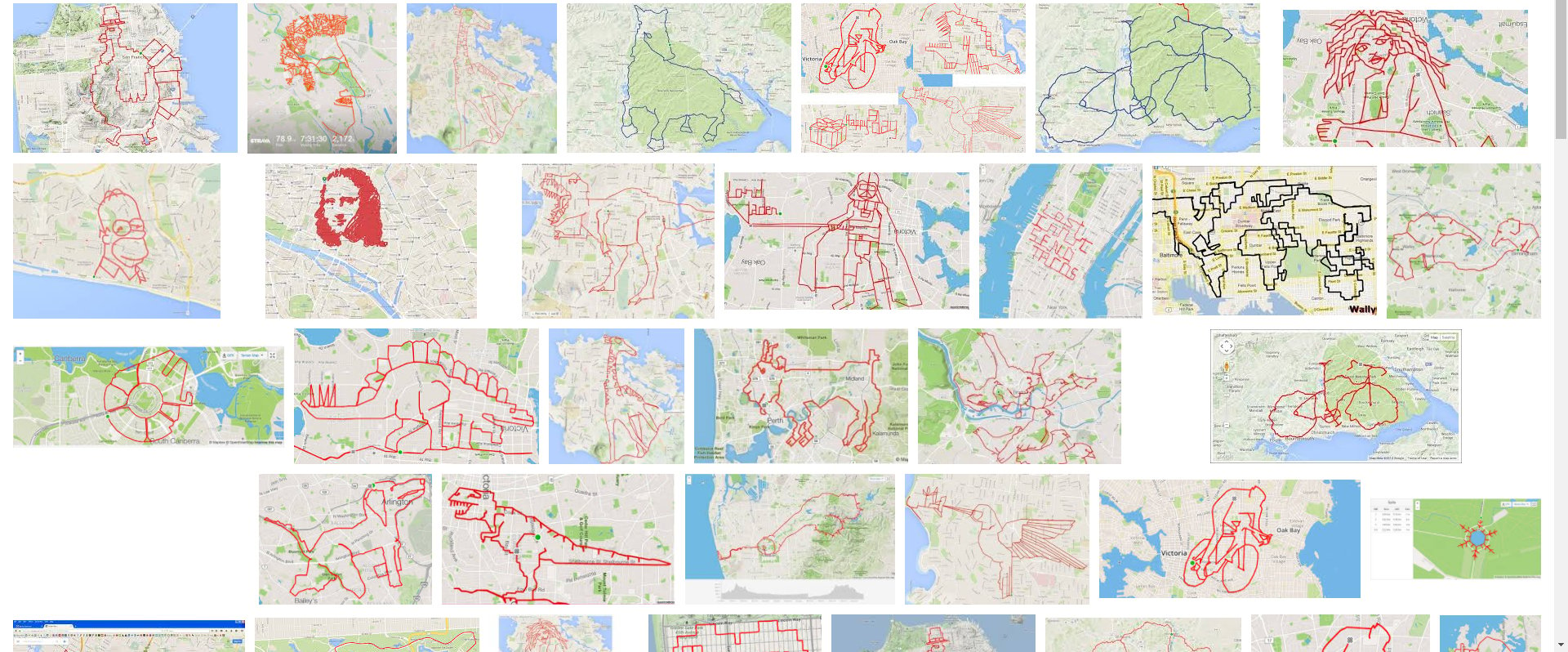 Strava art is becoming more & more popular at the moment – with there being lots of competitions to see what you can create. Use roads, tracks, trails – anything to record your GPS data & see what you can create when you get home.
You can plan this in your routes – this will allow to plan exactly what it will look like before leaving the house. Also roughly how long it will take you, just so you can be back in time for your dinner.
9. Check Your Heatmap
If you're a premium member you can create a heatmap to see everywhere you've ever cycled or run on strava. This is a great way to explore new areas, see your most common routes & learn the best areas. You can use the global heatmap to explore new areas, see where people ride most & find the best routes in a new place.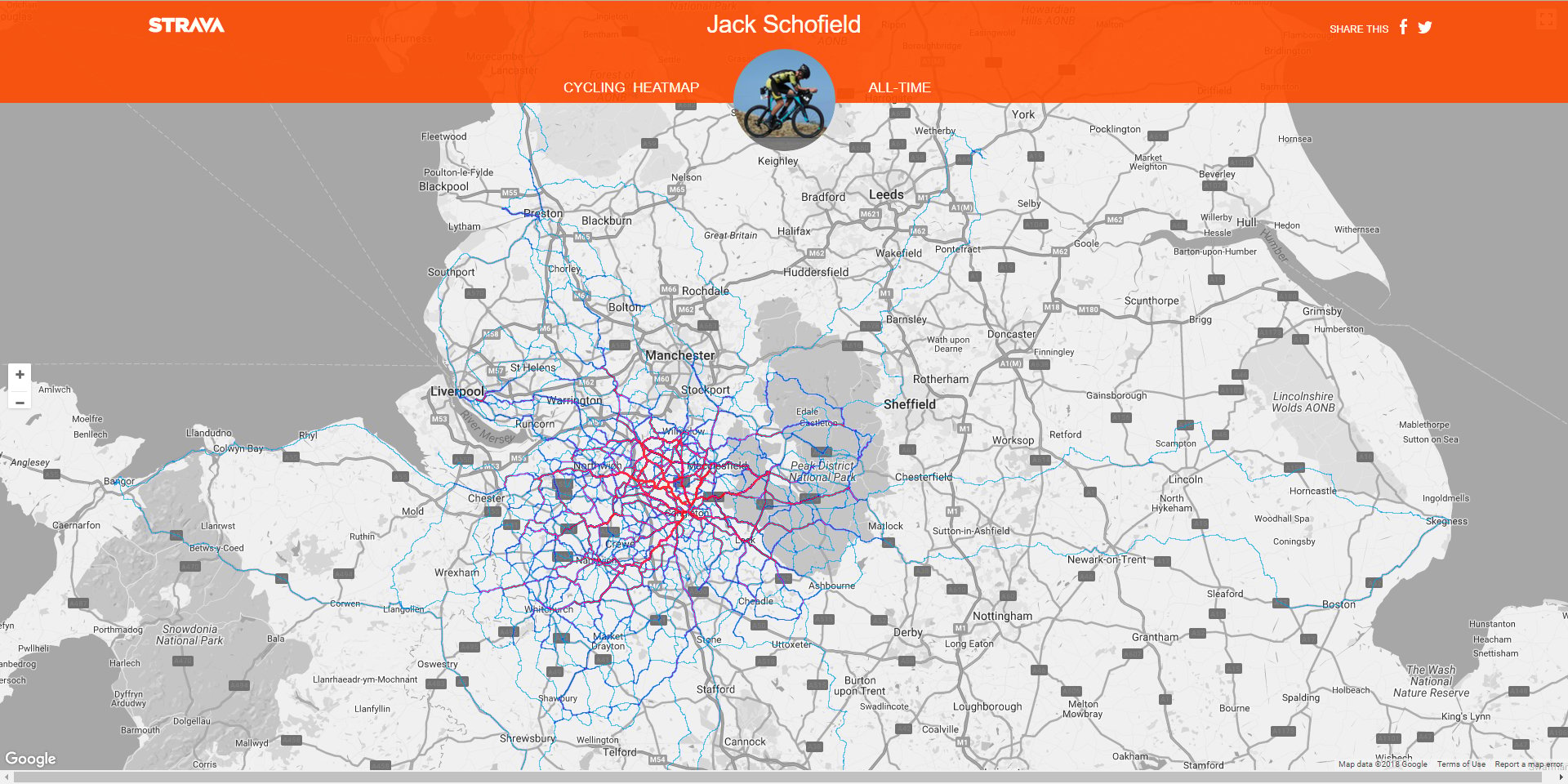 The Global heatmap is all over the world and can be great if you're going on holiday or moving. You'll be able to join right in without having to spend hours scrolling through google maps trying to check road surfaces.
— STRAVA ADDS 1 BILLION ACTIVITIES TO GLOBAL HEATMAP —
10. Use A Flyby
Flyby is a great way to see who you rode past & when. Wondering who that rider was in your club kit? Or the person that over took you just before the traffic lights. If they're on strava you'll be able to use flyby to see their activity as well as who they are.
Maybe somebody joined in for a long section of your evening commute & you were wondering if they wanted to ride it same time next week, flyby can bring you together in great ways. You'll be able to compare when they were faster, when they were slower – what route they took & when they caught you.
You can obviously turn this off if you don't want people finding you & watching your flybys – just head over to the privacy section & tick nobody in the fly by box. This will stop anybody seeing what you're up to.
11. Follow A Pro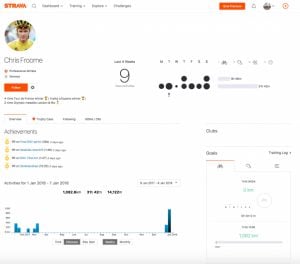 Not all the pros have Strava – but following pro's can be a great way to see what they're up to and how much training they've been doing. There was a bit of a stir when Chris Froome posted his first week of 2018 on Strava and clocked over 1,000km right off the bat.
Many famous pros will publish some of their training or racing on strava so you can see what they've been up to & where they've been riding. You can even follow some of the pros through the stages of the Tour de France. The most 'kudoed' activity of 2017 was Romain Bardet's mountain top win at the Tour de France with over 22,000.
12. Explore The Local Scene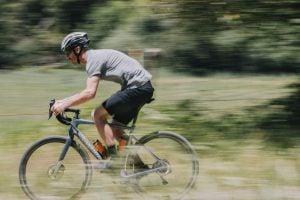 Whether you're checking new local routes & finding maps to explore, or seeing who's ridden them before. Strava can be a great tool for you to explore the local scene. Follow the people beating you on segments or the top local racers. This will give you an insight to what people are up to in the local area as well as who they ride for.
You'll be able to learn lots from the people around you – but make sure you try not to copy everything they do. It can sometimes be more detrimental than beneficial!
13. Check Your Annual Activity
The training calendar is a great way to see how you stack up against yourself month to month. You can see how many hours you logged, how far you went & how many personal records you set. This data can be great to see if you had an off month, or maybe started the year slow due to injury. The training calendar can be great for helping to understand form & fatigue going into races.
14. Help The Metro Data
Strava shares a lot of it's data with local councils and helping them understand the different routes commuters take. This can be a great help seeing which sections of cities are avoided and why. Or what times of the morning certain areas are busy. By marking your rides as 'commute' they'll be able to see the best routes to take from day to day and improve the way we move around.
— TOP TIPS FOR LONG DISTANCE RIDING —
All the collected data is anonymous so nobody will be following you any time soon. But the city planners would much appreciate the helping hand!
15. Phone Home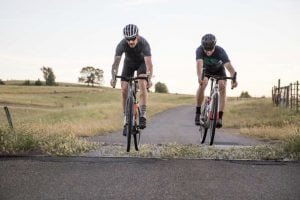 Strava beacon can be sync'ed through to your family & friends at home. Similar to the LiveTrack feature on garmin connect – this will let your loved ones know exactly where you are in real time. They'll be able to check you're ok & still moving.
They won't be able to analyze the ride with data, speed or elevation. But they'll be able to watch where you're at to see if you really have just popped up the local hill, or you're actually down the pub sneaking in a cheeky pint!
We hope that somewhere in these tips you'll be able to try out a new feature of Strava. If you haven't checked out some of the new features on the way it's always worth swinging by the Strava Labs to see what's coming along in the next few months. Paying a small subscription fee is also worth the extra benefits – plus all the new features need funding some how!