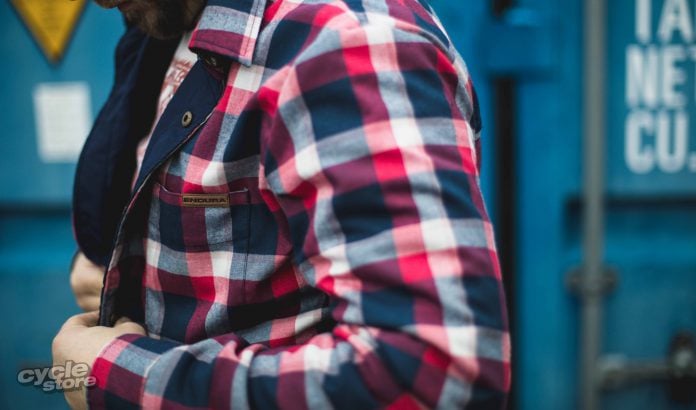 Having reviewed a lot of the Endura products, we were interested to see how this Hummvee Shacket held up on test. We've seen a few reversible items over the years from the Scottish brand, and so far they've not let us down.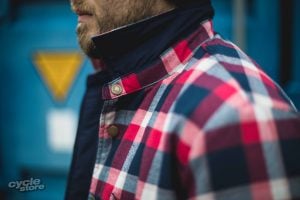 — THE ENDURA BRAND – THOROUGHBRED SCOTTISH APPAREL —
The Scottish based company have been producing apparel at the top of both the road and mountain bike game for many years. Along with supporting some of the worlds best, Endura are committed to quality.
The Jacket: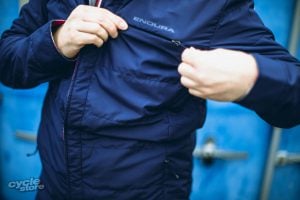 If you're trying to pack light then adaptable multi-use equipment is absolutely essential. This is especially true while bikepacking or cycle touring where keeping your luggage weight to a manageable weight has the capacity to make or break the trip.
It's situations like this where the Endura Hummvee Shacket comes into its own giving you the benefit of both a comfortable flannel shirt as well as a windproof outer jacket in one compact reversible package. Though slightly on the large side, that's often the way people wear this sort of shirt. We'd recommend trying a size down if you don't like your tops too baggy.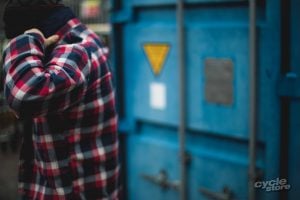 — THE ENDURA MTR CLOTHING RANGE – A CLOSER LOOK —
The lightweight insulation within the jacket provides a good deal of warmth making it a good option for any trips that involve camping or bivvying. The integrated hand warmer pockets are a handy inclusion as well making it easy to keep your extremities warm. Great autumnal piece of kit whether its on the bike or as a casual shirt to shake off those dropping temperatures as winter slowly rolls in.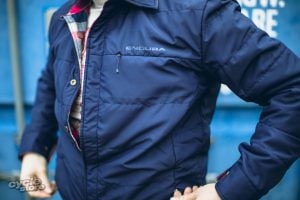 If the rain blows over the Hummvee Shacket won't keep you dry, though it may keep it off you for a small portion of time. Definitely designed for the lighter, dry days. Though you won't have to worry about what you're wearing underneath when you stop for your pub grub post ride.
— IS MTB RACING GOING TO MAKE AN ELECTRIC SHIFT? —
Aesthetics: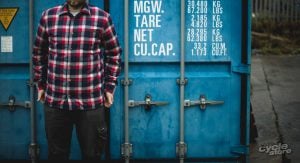 The shirt is available in two different colour options. Anthracite and red. We used the red for our photos, though the anthracite is equally pleasing. Fitting quite large they don't have a close fitting aesthetic that some riders enjoy.
The small zip pockets are very discrete and don't really impact on the aesthetic at all. Endura have kept the branding to a minimum with a small chest logo and a badge on the arm of the jacket side.
Verdict:
A great product that will certainly save space when it comes to being out on the bike. Pack light and stay warm with this Endura Hummvee Shacket, at only £80.99, you should get your hands on one today!