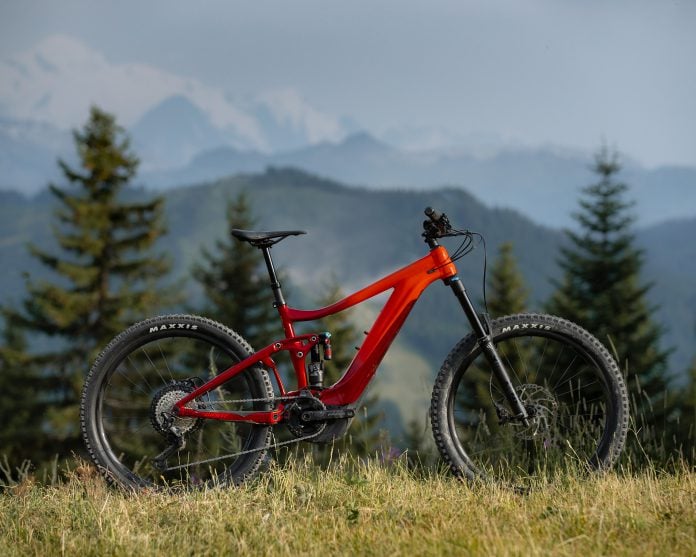 Giant is expanding it's lineup of E-bikes with the all-new Reign E+ Pro, a full-suspension off-road machine for aggressive trail and enduro riding. With the launch of the Reign 29 this week too, it's refreshing to see Giant still stretching the boundaries and overhauling their bike range.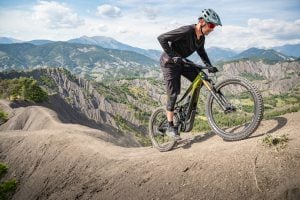 Engineered with Giant's latest SyncDrive Pro motor technology and a proven Maestro Suspension setup, the Reign E+ Pro gives trail and enduro enthusiasts the power to tackle steep climbs with less effort and ride technical descents with more confidence and control.
Inspired by Reign mountain bikes, a platform that has been engineered and developed in partnership with pro enduro racers over the years, the Reign E+ Pro applies Giant's Hybrid Cycling Technology to a long-travel trail bike for the first time. Hybrid Cycling Technology is a system that combines electric power with human power to produce a smart, natural and powerful E-bike riding experience. It's an integrated group of technologies that includes the SyncDrive Pro motor, RideControl ONE handlebar control unit and EnergyPak battery system.
— A NEW RANGE OF GIANT REIGN 29 ENDURO BIKES —
"With this E-bike you can ride all types of terrain, including tough climbs, with fewer limitations," said Giant E-bike Category Manager Joost Bakker. "We developed it to have the best handling and control on technical trails so you can experience a smoother ride and go longer distances."
The Features: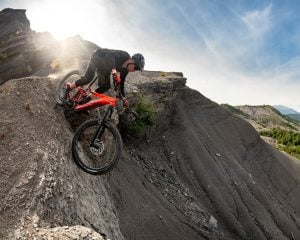 This premium full-suspension enduro bike with Hybrid Cycling Technology delivers true all-mountain action and fun that never has to end. Engineered with 160mm of Maestro suspension and high-performance SyncDrive Pro motor technology, it gives you 360 percent tunable pedal assistance so you can conquer steep, technical climbs and enjoy rowdy descents with confidence and control.
The lightweight yet super strong ALUXX SL aluminum frame is seamlessly integrated with the updated EnergyPak 500 battery for long-distance trail riding adventures. Connectivity is guaranteed with Giant's E-bike App, which offers navigation, health and fitness functionalities. And the RideControl ONE gives this trail performer integrated, user-friendly button controls that are simple to use and out of the way.
— BEGINNER ERRORS THAT'RE AFFECTING YOUR CYCLING COMMUTE —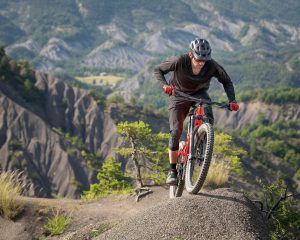 Updated for 2020, the SyncDrive Pro motor delivers a powerful, performance-oriented ride that's adept at supporting the particular needs of off-road riders. It boasts 80Nm of power output with improved torque and a support ratio of 360 percent. This means that, in the Power mode, 100 percent of human torque input can receive 360 percent added pedaling power.
The 6-sensor Smart Assist technology calculates the amount of torque, pedaling cadence, slope and speed while riding. Based on those calculations, it determines the amount of power needed to provide a smooth, natural riding experience. The motor engages instantly when power is applied to the pedals. This helps the rider control the bike when accelerating and offers reliable performance on steep climbs and low speeds.
— 15 TYPES OF MOUNTAIN BIKER WE ALL KNOW —
The EnergyPak 500 battery system is cleanly integrated into the downtube of the frame and offers long-lasting power (500Wh) that's easy to charge. It comes with our EnergyPak 6A Fast Charger, which can be charged to 80 percent in just 60 minutes.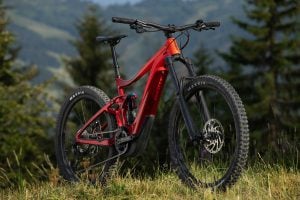 The handlebar-mounted RideControl ONE features integrated, user-friendly button controls. The robust buttons are made for riding in all types of conditions and offer a comfortable feel and grip with a clean handlebar setup. This minimalist control center uses just a few buttons and indicators to give you total control or your E-bike technology. LED lighting shows battery level and support mode, and the RideControl ONE is ANT+ compatible so you can connect with the Giant E-bike App and use your smart phone to display additional information such as motor tuning, fitness data and navigation.
Beyond the latest E-bike technologies, the new Reign E+ offers proven Giant off-road features. The ALUXX SL frame is handcrafted to offer superior strength and stiffness at the lowest weight possible. The Maestro suspension system in the rear deliver 160mm of active, independent travel to give you total control on rugged terrain whether you're climbing technical steeps or charging down enduro-style terrain. And Giant Tubeless System wheels and tires give you all the benefits of tubeless—including a smoother, more efficient ride and a reduced risk of punctures—in a system that's easy to use.
The 2020 Reign E+ Pro range consists of three models: The Reign E+ Pro 0 with the cutting-edge SRAM XO wireless electronic drivetrain, the Reign E+ Pro 1 and the Reign E+ Pro 2. Availability varies by country.