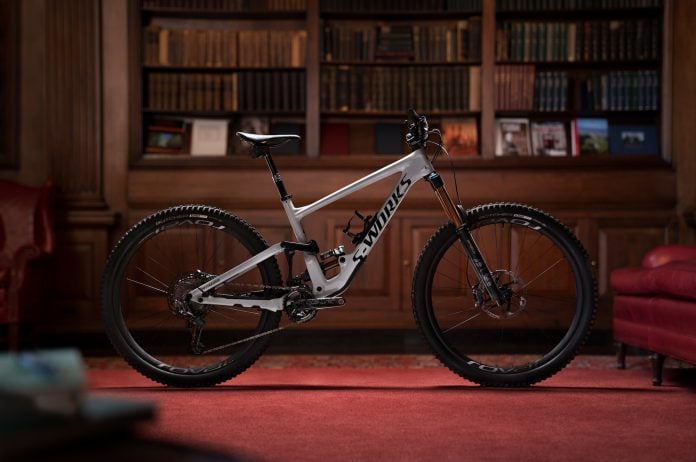 The new Specialized Enduro has been redesigned from the ground up, abolishing the x-wing frame design and following that of it's bigger brother, the new Demo 29, which has been dominating the World Cup scene.
With a new chassis, new suspension layout, new geometry and more travel, this bike is fast. Not only is it faster at ploughing downhill, with a 40% increase in anti-squat and a steeper seat angle, this bike climbs with speed: An all-round beast.
— 15 TYPES OF MOUNTAIN BIKER WE ALL KNOW —
A 170mm, 29 only trail ripper, this bike is going to dominate the enduro and downhill scene. With no alloy model available, the new Enduro is aimed towards the seasoned racer, obsessed with the geometry, the kinematics and the technology behind the bike, with the aim of bettering their times aboard the ultimate race bike.
The Features:
Moving away from the x-wing design and following that of the new Demo gives the bike a more-rearward axle path, taking inspiration from the new Demo and moving the main pivot forward and raising the bikes instant centre, minimising rear wheel hang-up. Therefore, transferring impact energy into the suspension rather than you, making you go faster!
You might be looking for a 27.5 model and noticing that their just isn't one… the new Enduro is based around speed. Reaching it quickly and maintaining momentum and we all know that this is exactly where 29 wheels excel. The new Enduro has also been given the long, low and slack treatment, giving the bike a more centred and balanced feel. Therefore, improving your control on steep descents and at speed.
Low & stable is the formula for speed. The Enduro 29's new linkage places shock mass as low and centered as possible on the frame, giving the bike an incredibly planted and confident feel. And, yeah, that helps you go fast.
The Enduro is also only available in a carbon option. This is because Specialized wanted to create the lightest, most bad-assed bike in this genre. Carbon was the ideal frame material for making that happen.
Aggressive Geometry:
The new geometry is more aggressive than before. It's longer in the cockpit, so you feel more centered on steep descents. We steepened the seat angle to improve your pedalling position. We shortened the seat tube to make room for longer-travel dropper posts.
Longer reach (22-28mm longer S2-S5)
Head Angle slacker (63.9 low, 64.3 high compared to 65.5 / 66 in prior model)
BB Height 347mm low, 354mm high (was 346mm / 354mm)
CS length 442mm (was 433mm)
Wheelbase S2: 1217mm S3: 1246mm S4: 1274mm S5: 1302mm (was 1165, 1190, 1218, 1245mm)
Top Tube length (horizontal) 591mm, 619mm, 644mm, 670mm (was 559, 584, 611, 637mm)
All bikes – 800mm bars, 170mm cranks, 40mm stems
ENDURO – NEW SUSPENSION
More Progressive
Rearward Axle Path
Increase Anti-Squat
170mm Front & Rear
205 x 60mm
More Progressive
The Suspension is smoother on smaller bumps and more controlled (less bottoming out) on big hits. We increased its progressivity, which gave us those two benefits.
Rearward Axle Path
By moving the main pivot forward and by adjusting the bike's instant center, we made the axle path more rearward in key parts of the travel. This reduces the rear wheel's tendency to "hang-up" over rocks and roots. Less hang-up, equals more speed. The geeky term is "better momentum carry".
Increase Anti-Squat
We experimented with finding the right amount of anti-squat and ultimately adjusted the anti-squat to an amount we felt was ideal for a 170mm travel bike. End result? You stomp on the pedals and this thing accelerates forward way quicker than you'd expect from a bike with so much travel. Less bobbing. More speed.
— ALL NEW SPECIALIZED TURBO CREO SL EXPERT PHOTO ALBUM —
What is Anti-Squat?
Anti-Squat is a term for suspension engineers to determine how much the suspension mechanism itself is resisting suspension compression. Anti-squat is suspension's mechanical resistance to compression due to forces from the engine (on bicycle the engine is human). Over 100% of anti-squat (AS) means suspension will extend under acceleration. With 100% AS suspension won't neither extend nor compress. Under 100% AS means tendency to compress under acceleration. It is determined based on actual linkage instant center (IC, pivot point is also used), chain force line and center of mass height.
If the AS is more than 100% it needs more effort to pedal uphill since the pedalling effect wants to lift rider weight. Also, the suspension is harder to tune for downhill riding because of the extending forces of the AS.
If the bike has less than 100% AS it's easier to control the forces with shock tuning.
100% of AS is impossible to maintain. The bike can have 100% AS in one point of travel, but it cannot maintain it.
These are the bikes in the range, all of which will be available on Cyclestore soon.
Category
Product
Colour Options
Price Point
Bike
S-Works Carbon 29
GLOSS DOVE GRAY/GLOSS BLACK/ROCKET RED
£8999
Bike
S-Works Carbon Frame 29
GRANITE/BRUSHED BLACK CHROME
£3299
Bike
Expert Carbon FSR 29
1 GLOSS RED TINT/DOVE GRAY/SATIN BLACK
£6250
Bike
Elite Carbon FSR 29
1 GLOSS WHITE MOUNTAINS/SATIN CARBON/SAGE
£5499
Bike
Comp Carbon 29
2 SATIN BLACK/GLOSS BLACK/CHARCOAL

GLOSS AQUA/FLO RED/SATIN BLACK

£4499