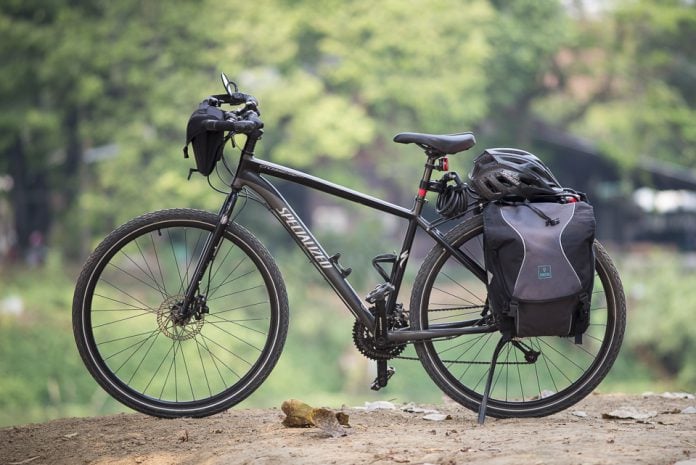 One of the more understated Specialized bikes – the Crosstrail Sport Hybrid bike is the perfect companion for both busy urban streets and empty country trails. When you're out enjoying some fresh air, improving your health and fitness, you'll need a bike that's both versatile and efficient. Specialized have made a comfortable hybrid up for the task.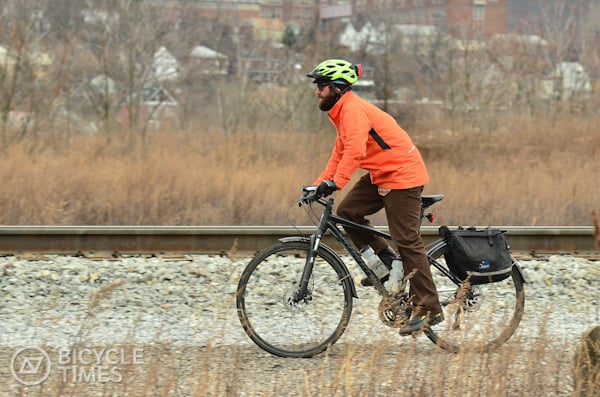 The Important Stuff:
Retailing at £699.99 but currently at 15% off on Cyclestore.co.uk this little gem really won't let you down. It comes equipped with a suspension fork complete with Fitness Brain technology. Sounds like yet another fancy marketing ploy – however this suspension system has been used through the Specialized and s-works ranges to allow maximum efficiency.  The system can differentiate between rider input and trail bumps. This means that no force is going to waste when you compress the suspension.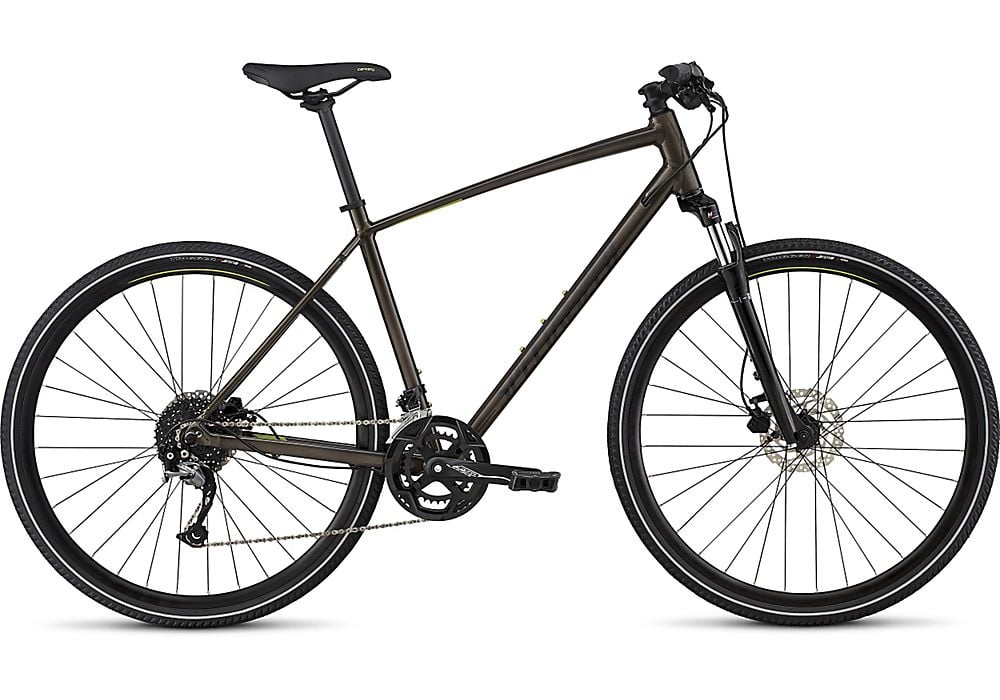 And to build on this blend of comfort and speed the frame is built from respectably light and rugged A1 SL Premium aluminium. Also available in a carbon fibre composite version, both off a comfortable upright riding position. The Crosstrial Sport Hybrid comes with a geometry that's made to fit just right from the minute you get on the bike. Rolling road bike wheels give extra cushioning and are added to a gear set more commonly found on a mountain bike creating a smooth ride.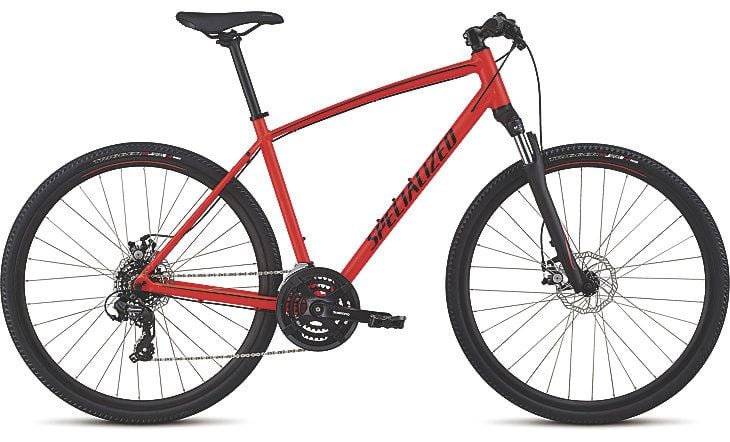 The components that come with the bike are designed to survive whatever you decide to throw at them. Names like Shimano, Tektro & microSHIFT have all had their input. Rack/Fender mounts give you full flexibility to mix up your options out in whatever weather conditions get thrown your way.
The Ride:
The Specialized Crosstrail is a versatile hybrid bike that is designed to offer comfortable, efficient ride on every surface from smooth tarmac roads to rough gravel tracks. Fast rolling road bike wheels are combined with wide range mountain bike style gearing and a suspension fork so you can adventure off-the-beaten-track yet still ride efficiently on the road.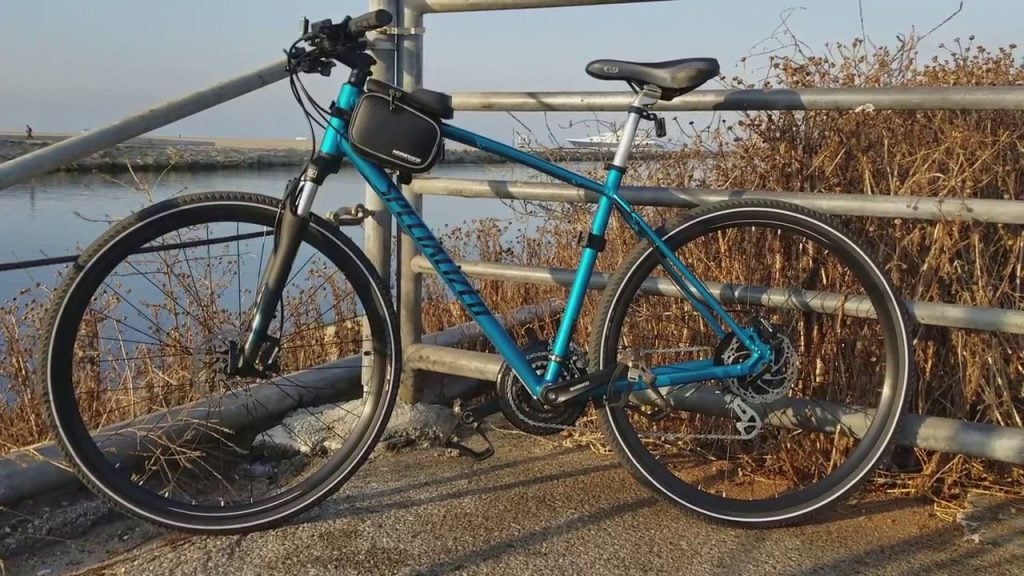 Both the aluminium alloy and carbon fibre composite framed versions of the Specialized Crosstrail featured in this review offer the same comfortable, upright riding position with high volume tyres to give you a bit of extra cushioning on uneven road surfaces. With its versatile character the Crosstrail is a bike that offers comfort and efficiency wherever you choose to ride.
The body geometry engineers over at the Californian headquarters have worked tirelessly to provide a bike that strikes a great balance between efficiency and comfort. And this echoes throughout the design of the bike. Everything from material choices to final details has been carefully thought through. The upright riding position allows a stable platform to give you the confident handling you need.
With the SR Suntour NEX fork using the 55mm coil-sprung travel that comes complete in the Fitness Brain technology, the bumpy trails will feel a breeze. While efficiency and speed isn't lost in the city – the bike is durable as you'd need. Braking duties are handled by Tektro Vela hydraulic disc brakes to ensure effective consistent and reliable power through any kind of terrain or condition.
We'd be happy to spend hours at a time on this bike exploring and improving fitness as the comfort was exactly as we expected it to be. Whether you're a commuter looking to keep active – or a weekend explorer looking to get out and enjoy your local areas – it's up to both of the tasks and more.
5 Reasons to be Commuting By Bike.
The Verdict:
We really enjoyed riding the Crosstrail Sport Hybrid in all conditions. It was ready to go right from the box – handling whatever we threw at it. If you're looking for a reliable fitness bike – without spending 4 figure numbers, this is the perfect companion for you.
You can view our Full Range of Specialized Crosstrial Hybrids Here.
Value -

74%

Performance -

68%

Durability -

78%