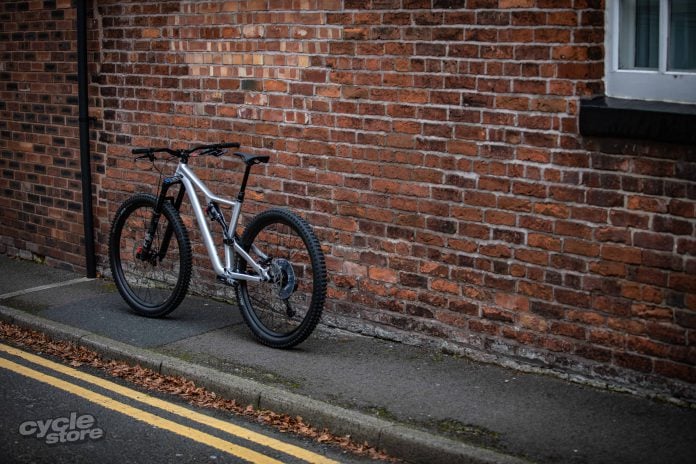 The all new Specialized Stumpjumper was one of the most anticipated releases of the 2018 summer. Dating back to 1985, the original bike has a long heritage and is often at the forefront of the MTB world, and though the EVO was born in 2015 it's no exception. You may have read our review of the new Stumpy here, so we had a closer look at the new Stumpjumper Evo.
— SPECIALIZED ANGi – THE NEW TECHNOLOGY —
Built for comfort on much more extreme terrain, the Stumpjumper Evo is designed to unlock the next level of routes. Harder riding, no problem. Heavier steering, exceptional front-end traction and it begs you to boost every lip and do cutties as often as possible. And with all the speed that 29ers are known for you're going to be able to bomb down trails that you thought you couldn't touch without a full-blown DH rig.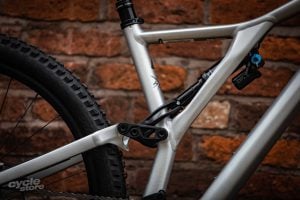 Specialized have tried to build the ultimate trail bike… one that feels telepathic. And it turns out that this feeling all comes down to stiffness. Think of it this way: when the frames telling your hands one thing and your feet another your brain gets confused with the imbalance and the bike feels unstable. In order to fix this they had to get to work on dialing-in the materials and shapes.
— S-WORKS RECON – THE NEW OFF ROAD STANDARD —
What's The Difference?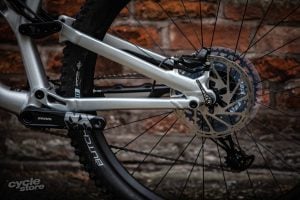 The Stumpjumper Evo comes with a new sizing based on the demo down hill bike, S2 and S3. It's a overly large version of the normal stumpy. Coming with the evo geometry of longer reach and a slacker 63.5 degree head tube angle. Both the stand over and the seat tube or lower than the regular model.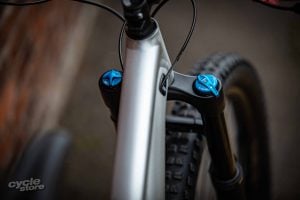 Suspension performance is highly dependent on frame wheel and rider size so we use our Rx Tune to get each bike to land in the middle of the adjustment spectrum and this gives you the biggest possible range to fine-tune your ride. Another focal point of the tune was matching the suspension characteristics between wheel sizes—we developed a specific Rx Tune for each platform. So no matter what wheel size you prefer you'll get perfectly linear suspension.
— 15 TYPES OF MOUNTAIN BIKER WE ALL KNOW —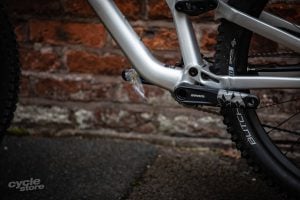 Threaded bottom brackets make a triumphant return and we made room for up to a 3.0 tyre. Youre also free to run whatever aftermarket rear shock you want since were using standard metric shocks. And customization is furthered with a Flip Chip that lets you to dial-in your Stumpy to your riding style. Bottle cages let you carry it in the frame if you so wish, meaning you don't always have to ride with a camel pack.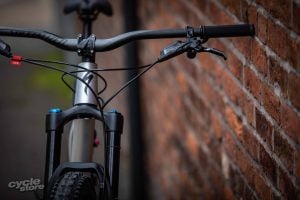 The build here keeps the EVO theme going with ready-to-shred parts like a FOX DPX2 rear shock (140mm of travel) FOX Rhythm 36 fork (150mm of travel) SRAM Code R 4 piston brakes and Roval Traverse 29 alloy wheels. And when you top it off with SRAMs NX Eagle drivetrain youll have no problem getting it to the top of the runs either.
— IS MTB RACING GOING TO MAKE AN ELECTRIC SHIFT? —
A very minimal paint job on the Stumpjumper Evo keep the aesthetics very crisp and sleek. And we have to say, we're big fans. Small logos compliment a polished alloy finish.
Verdict:
If you're looking for a comfy enduro bike ready to hit the big stuff, or a top U.K. uplift bike, this is definitely worth considering. Sturdy alloy construction and great attention to detail makes this bike ready to go, wherever you decide to take it.
Performance -

89%

Value -

81%

Durability -

90%

Aesthetic -

88%