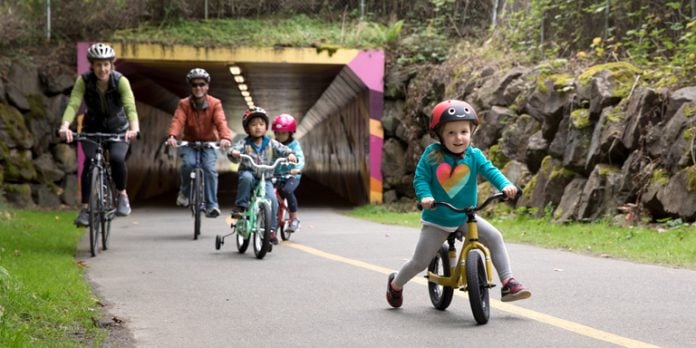 The weather is starting to look up, and what better way to spend time with the family than heading out on the bikes. You'll be able to explore new places, have a laugh and get some quality time in the great outdoors with the kids.
Though cycling is great for some alone time yourself, getting out with the family can be equally therapeutic through busy and crazy times. We've listed a few top tips to get out on your bike with the kids.
— BEST CYCLING BOOKS TO READ IN LOCKDOWN —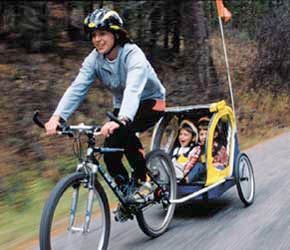 Get your partner a bike.
Spending quality time with the kids isn't just for you, you'll enjoy it more as a family activity if you're all involved. Making sure you have bikes that are fully serviced and in working order is important. They don't have to be expensive or top of the range, but if they're running smoothly you'll all have more fun. It might also be worth considering a hybrid if you're riding primarily bridleways and smooth terrain, this will make the going much easier with the thinner tyres.
Basic maintenance skills are also advisable. Making sure you can fix a puncture, change the height of a saddle or adjust brakes on the go will keep the whole family in good working order. Last thing you want is to be stranded half way round the ride and have to race back for the car.
Let the kids and newer cyclist determine the intensity and distance you cover. There's no point forcing miles on everyone just because you want them to make it to 30 miles one weekend. It won't be fun for them and tempers will run short! You can also make this slightly fairer by making sure the stronger cyclist has all the bottles, food, trailers and anything else you might want to carry. A pannier is a good way to carry supplies if you don't have a buggy on the back to put it in.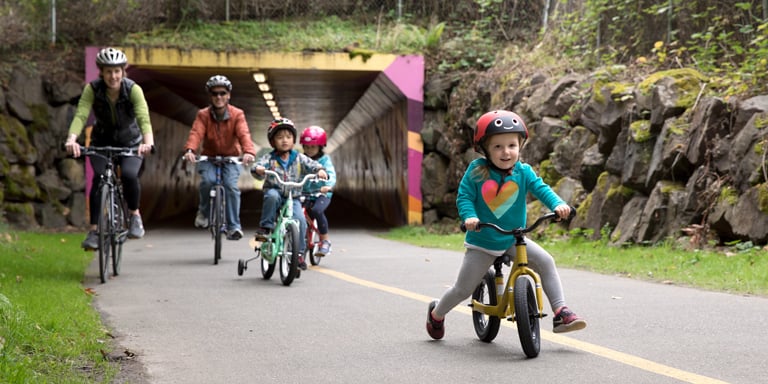 Get the right kit
This is as important for the kids as it is the adults. Making sure you all have the right kit will make the experience more enjoyable all round as well as a lot safer. Making sure the brakes are working on the kids bikes and they have a suitable helmet on at all times is very important.
— BIKE TRENDS – THE FUTURE OF CYCLING —
You won't need to spend a fortune on kids clothing, making sure they're warm enough is the only thing you'll have to consider. Unless it's given a lot of rain for the day.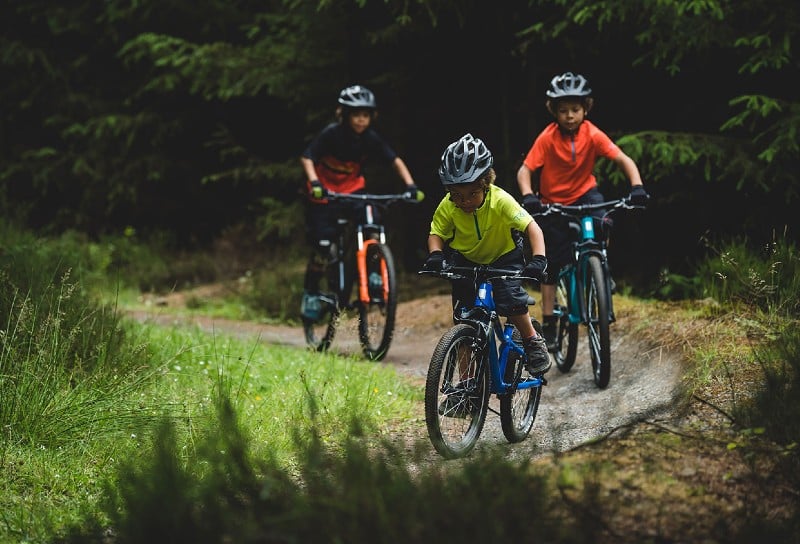 When it comes to buying helmets you just have to make sure it fits properly. A visit to your local bike shop should solve this fairly quickly. Not too tight and not sliding around, also worth making sure you don't pinch their neck when you're tightening the chin strap.
A good kickstand can help you balance your bike while you sort the kids out. Are even get one on the kids bikes so that they can stand them up. But if you have a kickstand fitted to your own bike, make sure you never leave a child in the seat without you on the bike!
— THE SPECIALIZED CHILDREN'S HELMET RANGE ALBUM —
Consider a trailer and/or balance bike
If your child isn't quite ready for an outdoor adventure, it might be worth considering some options to get them in the bike. While bike seats are great, not everyone enjoys cycling with a child on the back. A trailer can be a great alternative.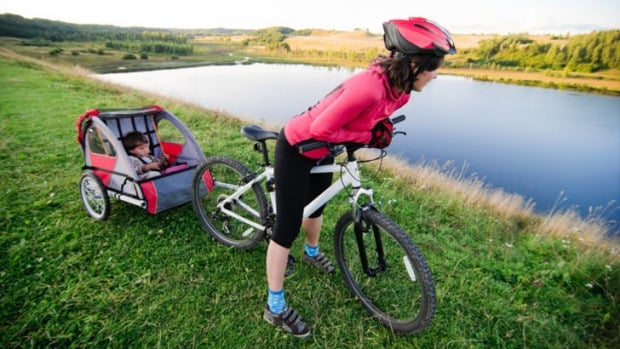 Trailers often have two or three wheels and fix to the back of your bike. They will have a roll cage for safety reasons and covers that keep out the weather, grit and insects. A lot will be able to double up as strollers for running.
A child seat is a great alternative but can be a bit harder to fit to some bikes and affect the balance. Rear child seats are often better and safer than front child seats. The child seat won't require as much horse power to cart around with a trailer.
There are a number of benefits to the trailer over the standard child seat, such as storage capacity underneath, stability and warmth for the children. It'll also make it easier to handle the bike for you. They'll often fold flat to fit into the back of the car so you're not carting around the whole thing if you want to travel for your ride.
— CYCLE OF GOOD – A NEW COLLABORATION —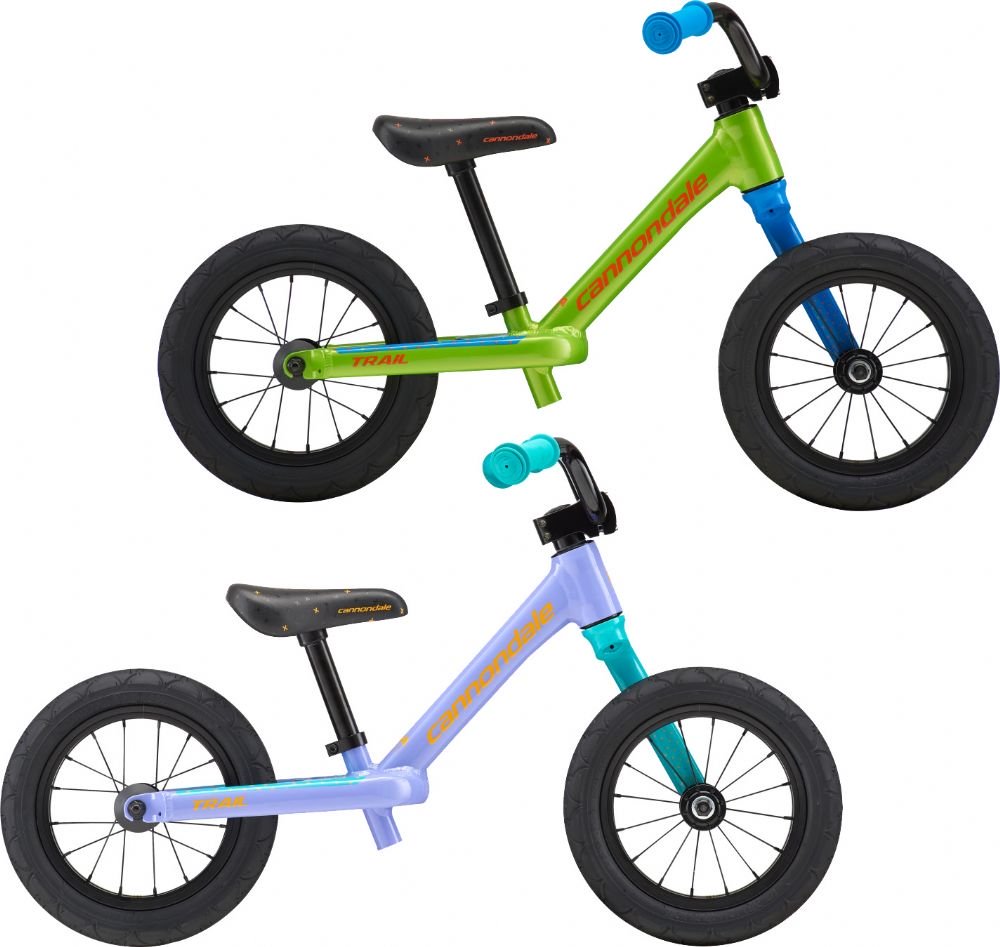 Sometimes you can even fit a small balance bike into the storage space. Balance bikes are a great and safe way for the kids to learn how to ride around without having all of the falls that come with learning to ride a bike. It's basically a bike with no pedals or gears so that the kids can push around with their legs and lift them up to ride going down hill.
It's worth noting kids won't be able to cover much ground on a balance bike, so it's best used at a park or cafe stop on the ride rather than the main source of transport.
Pick a friendly route
A friendly route for the whole family is vital. There are a great set of Sustrans routes to choose from, with plenty of landmarks to keep the family entertained. Everything from viaducts to caves can be found on these great routes.
Bridlepaths are the safest way for everyone to enjoy a traffic free ride while you all earn how to handle the bike and move around. This will keep the kids safe and they're often flat and smooth so that you don't end up in the middle of a MTB trail centre sending the family down to their depths.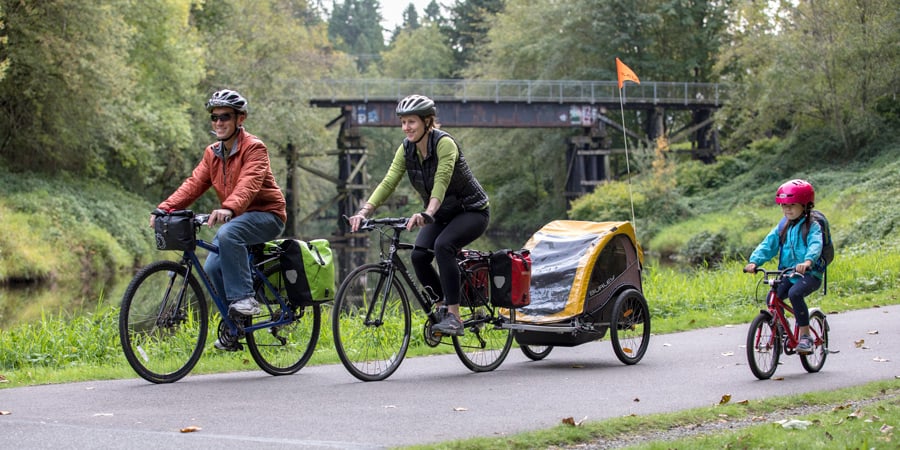 Make sure that you don't plan to ride too far from the car or house if you're heading out. You don't want to be towing sulking kids back to the car at the end of a long morning riding!
Plan an ice cream or picnic stop
Knowing where there's a local ice cream van can be a great way to keep the kids motivated round the whole ride. If it's back near the car it'll get them back for their favourite ice cream before finishing the ride.
— ELECTRIC BIKES TIMELINE: PAST, PRESENT, FUTURE —
Stopping for a picnic to refuel half way around can both be a great way to keep energy levels up and offer another activity in the day. A family picnic is always an enjoyable affair if the weather is nice!
Some routes will have caves, rivers, tunnels or play areas that can keep the kids entertained for a short while too if you need extra stops on the ride. A carefully planned route might have less cycling and more activities, though it'll be much more fun and you might even get some peace and quiet while they tear around a play area.