March and April are the months I look forward to the most when it comes to watching road racing, putting my (tired) legs up for a Sunday afternoon of coffee and "classics racing" is spot on. These are the months when the biggest races no-body has heard of take place, with a possible exception, Paris Roubaix which lends its name (with no legal battles) to this months bike, the Specialized Roubaix.
There have been a few editions down the road leading up to the current model, all however have had two things in mind, first off all comfort for all who ride one and second but by no means least, triumphing in the Roubaix velodrome.
TOUR DE FRANCE ROUTE 2018.
The current Roubaix is possibly the most radical of the lot, featuring a suspension unit between the stem and the frame absorbing a most things the road can through at it. Out of the box you get a choice of 3 springs, soft, medium or firm, still allowing for 40mm of stem height adjustment. Out back the seat post clamps extra low to allow for a little more flex and comfort this is combined with the CG-R seat post which uses flex to keep things smooth.
Chris from Specialized explains: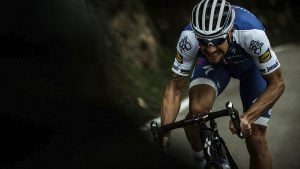 Disc brake only (for production, although this years bikes were raced on very limited caliper brakes, essential for quick wheel changes and neutral service) ensures easy stopping in any conditions. Pro bikes used this year by Peter Sagan and Tom Boonen.
A thorn in the side of any cyclist without a team car following them is carrying spares! Specialized have expanded their SWAT (Storage, Water, Air, Tools) range to the Roubaix which features a neat and (aerodynamic) solution, placing your tool, tube, CO2, tyre lever and if you're brave enough a bit of cash lowdown in the frame between the down tube and seat tube, not a battery as is a reasonably common question.
Unfortunately non of the racers on board the new model were able to put in on the top step of the podium at Paris Roubaix, best placed was former cyclocross world champion Zdenek Stybar who achieved his second, second place at the race!
Want to take one for a spin? We've got a demo bike in store. As with previous generations, a Ruby which is the model tuned more toward a female rider is available with all the same bells and whistles.