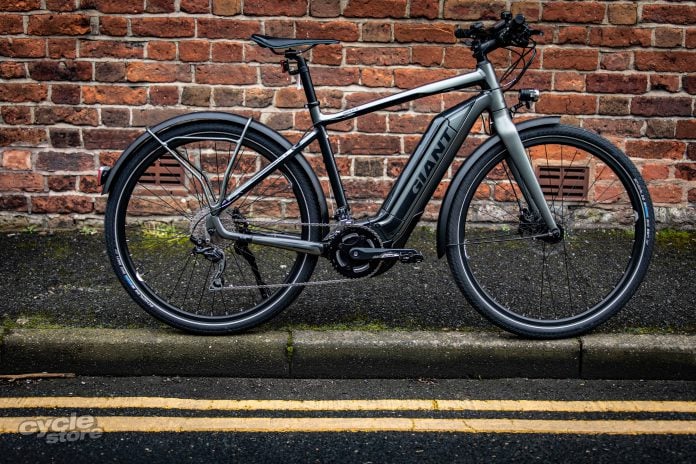 Designed to be a high quality city bike, getting you from A to B fast in an urban environment. Race through the concrete jungle with an extra boost from the Giant Quick E+ electric bike. This state of the art mobility bike claims a new and updated Syncdrive motor and a long lasting energy back battery. We were keen to see just how many of the claims were true!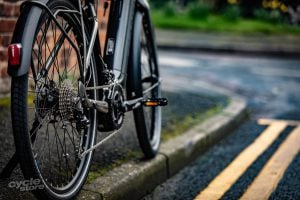 The Quick E+ features a compact SyncDrive Sport motor that delivers smooth and instantaneous power—which blends seamlessly with your own pedaling power so you can float up hills, dial up your speed, and do it all with greater ease. With an ALUXX SL aluminium frame and a powerful SyncDrive Sport motor that produces 80Nm of torque and top speeds of 25kph, traffic jams and parking hassles can be a thing of the past.
— HOW TO IMPROVE YOUR CYCLING BASE ENDURANCE —
The Features: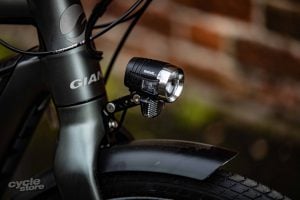 At the top of Giant's city range – the Quick E+ had a lot to live up to. With rival bikes such as the Specialized Turbo Vado, it's a difficult category to make a statement in, though the Giant is a much cheaper alternative. Designed for speed, you'd expect this bike to be a stripped back, bare boned e-bike. Though it doesn't follow that trend. Fully equipped with mudguards, rear rack, a kick stand and lights – this bike has taken the all round approach to city riding.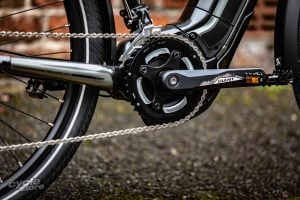 Complete with a double chain-ring, this is quite an unusual feature for an all round city bike. The Quick-E+ breaks the rules from the start. It's 10-speed 11-36T cassette combines with a 42/28T chain set and gives you a gear range wider than the majority of city bikes. Mixed with a direct drive motor and Shimano Deore components, it's a durable bike that's built for the long haul. 
— SAFETY TIPS FOR CYCLING COMMUTERS —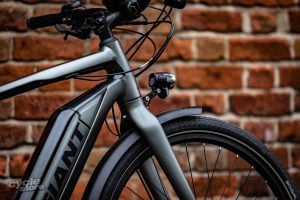 Giant's Syncdrive offers the Giant Quick-E+ four sensors to match your input with the motor output, which peaks at 80Nm. Offering up to 28 mph this is a class 3 e-bike. The motor gives a smooth power output throughout the ride. With the remote on the handlebars – it's easy to use and there's not much fiddling around while searching for extra power out on the bike. Giant claim that the integrated motor and battery offer a range of up to 130km, meaning that although the bike is sleek, the engineering is in place for performance.
— SPORTIVE RIDING – IS THE FUTURE ELECTRIC? —
Ease of Use: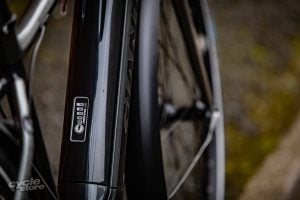 Comfortable tyres are designed to swallow any bumps the road may throw at you, but the geometry isn't as relaxed as a lot of city bikes we see. Instead it's quite aggressive, tilting you forward and encouraging you to go fast. Though it's nowhere near as aggressive as normal road or fast hybrid bikes. The handlebars are set quite wide to give you the extra control you need over the bike.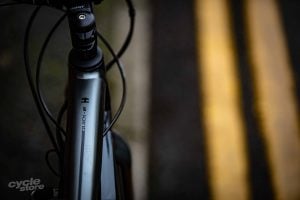 It's easy to read the data from a large central screen on the Giant Quick E+. It's clear and tells you everything you need to know about the state of battery, the speed and what setting you have the bike in. It even offers a battery percentage as well as just the normal bar. 
You can use the pad on the handlebars to toggle among three levels of assistance: eco, normal, and power. The soft-touch rubberized buttons also control the bike's computer and lights. This keeps everything in one place and simple to use.
Verdict:
As with many of the Giant range, the components used to finish the bike are high quality. The Giant Quick E+ is designed to be durable and long lasting. Though slightly more aggressive that some city bikes, it still offers a lot of comfort while you're spinning from A to B. The double chainring is a slightly odd choice for a city bike, but you might appreciate the range of gears. Although when mixed with the motor – the little ring isn't often used! 
Performance -

75%

Aesthetic -

80%

Value -

84%

Durability -

81%