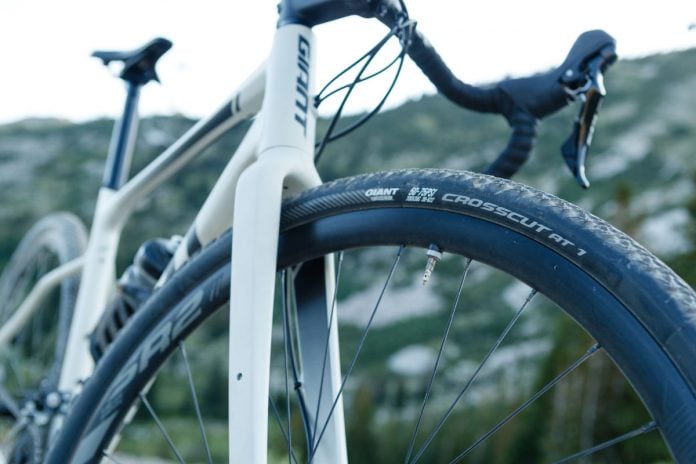 As we see Giant make a move to expand their revolt range, we can't say it's come as a shock. Gravel riding goes from strength to strength each year, and Giant believe that over half the worlds roads are unpaved. Allowing you to really get out and enjoy the adventure, three new Revolt bikes give you unparalleled freedom to explore.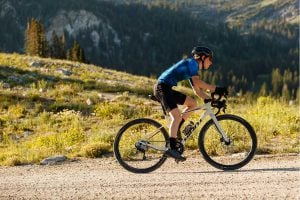 This high-performance all-rounder made a big splash with its 2018 debut when the Revolt landed podium finishes at big-time gravel events including Grinduro and the unofficial "Gravel Worlds" in the U.S. It's designed so you can tackle long, hard rides with greater control and less fatigue.
— GRAVEL BIKE OR HARD TAIL? – A PRESSING DECISION —
The New Bikes: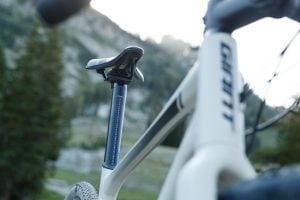 The bikes feature three different group sets, from Shimano Sora up to Shimano 105, but are designed around the same comfortable geometries and compact gravel frame design. Giant haven't tried anything new with the aluminium frames, instead they're celebrating what already works from the original Revolt. After all, if it isn't broken, don't fix it.
The new bike offers performance and versatility for riders seeking one highly capable bike to ride roads, gravel and dirt. Following in the footsteps of the Revolt Advanced Pro and Revolt Advanced, pro-level gravel bikes developed with Giant Factory Off-Road Team riders for long-distance gravel events like the Dirty Kanza 200, the new Revolt has similar gravel-specific frame geometry and features—but with the high-value performance of an aluminum frameset.
— GIANT REVOLT ADVANCED 0 – 2019 REVIEW —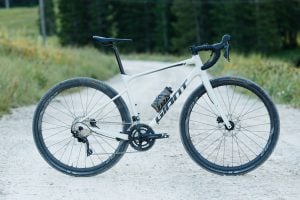 Beyond its ALUXX aluminum frame, which is engineered and produced in Giant's industry-leading aluminum forging facility with optimized strength-to-weight ratios and proprietary production techniques, the new Revolt features innovative technologies to make it highly capable on a wide variety of terrain.
The D-Fuse seatpost is engineered with a distinctive tube shape that features a round front and flattened rear section. Following its initial success on TCX cyclocross bikes, including multiple world championship titles, this design was applied to Revolt bikes to help improve ride quality on rough terrain and minimize fatigue on long rides. Its shape and composite design result in up to 12mm of "travel" for a smoother ride quality.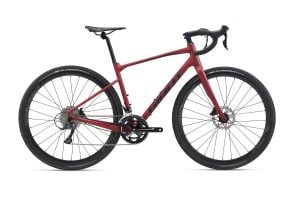 The Revolt 0 and Revolt 1 models feature the Contact XR D-Fuse handlebar, which also uses D-shaped tubing. Tests show the D-Fuse bar has 10 percent more "pushing" or downward compliance and 20 percent more "pulling" or upward stiffness compared to the Contact SL round handlebar. It absorbs shocks and vibrations while also increasing stiffness for sprinting or out-of-the-saddle climbing. The handlebar also has slightly flared drops (8 degrees) and a 5 percent back sweep for wider hand positioning and better control on rugged terrain.
— BIKE TRENDS – THE FUTURE OF CYCLING —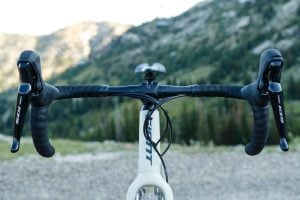 Up front, an Advanced-grade composite fork with an OverDrive tapered steerer tube absorbs road shocks and vibrations. The frame and fork also have added clearance for high-volume tires (up to 45c) and disc brakes, which improves ride quality and control in all conditions. All three models in the range come with Giant's own S-X2 disc wheels and 38mm Giant Crosscut AT 1 tubeless tyres which improve rolling efficiency and ride quality while reducing the risk of flats. The 105 version of the bike also comes complete with disc brakes to keep your stopping sharp and bike agile through any technical terrain.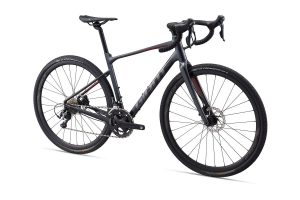 Finally, all Revolt bikes come with neatly integrated mounts that make it easy to add racks and fenders to personalize for individual riding style, terrain and gravel adventures. If you're worried about how the bike will look more than how it'll ride, the UK models come with three colour variations. The Revolt two comes in a metallic grey which is actually quite nice and the Revolt 1 is a glossy teal. The Revolt Zero however isn't quite as exciting with it's "matte grey beige" design.
— HOW TO IMPROVE YOUR CYCLING BASE ENDURANCE —
The Verdict:
If you're looking for a new gravel bike with a now affordable price tag, we'd definitely recommend looking at the new Revolt range. Packed full of features that we love, it's great to see Giant yet again moving to accommodate the larger portion of the market.