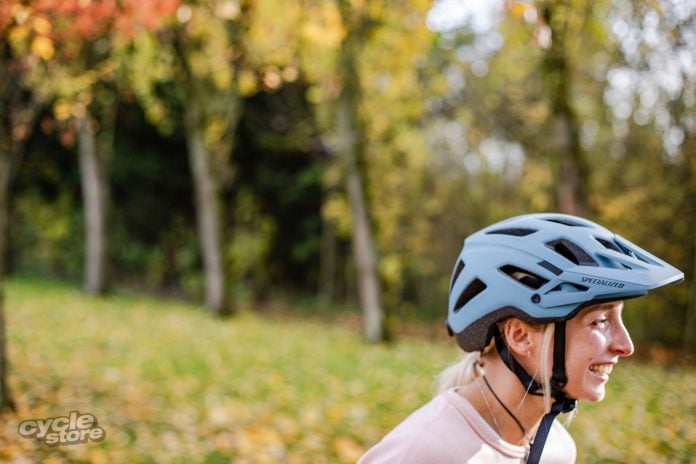 Specialized have launched an entirely new helmet line today. This new line includes MIPS integration through every model in the line, and the all new proprietary ANGi crash detection and notification technology.
What does ANGi-Equipped mean?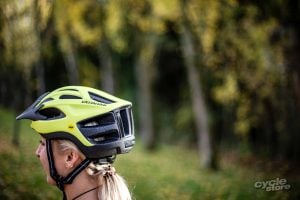 All ANGi-equipped helmets ship with the ANGi unit attached to the Headset fit system. And ANGi-Ready helmets come with location to attach aftermarket ANGi sensor on the Headset fit system. Aftermarket ANGi units are available for any ANGi ready helmet; at around £40.
— NEW SPECIALIZED MIPS MTB HELMETS —
Does every helmet in the have MIPS?
Yes, every helmet model in the line is available with MIPS. In addition, the following helmets are also available as non-MIPS: Align, Shuffle Youth, Shuffle Child, Mio. Though with the added safety technology, we're not sure why you'd opt for this.
With all the new technology, what is the impact on helmet pricing vs. 2018? 
In general, MIPS drove a £10 – £15 price increase over MY18, which brought Specialized pricing in line with MIPS model offerings from competitors. For ANGi-equipped models, we added an additional £10 – £15 for this premium technology, which is a saving over fitting an aftermarket ANGi system.
— NEW SPECIALIZED MIPS ROAD HELMETS —
Can a rider remove the ANGi sensor from an ANGi-Equipped helmet?
The sensor is attached by adhesive and can be removed. Once removed, the unit cannot be reattached. The glue has been rigorously tested to ensure the system won't fall off your helmet at any point. As well as this on most ANGi-ready models, the receiver port can be removed with a small screw driver.
In the event of a Rider Care issue, which helmets can be retrofit to take advantage of the ANGi fit system service part? 
SW TT, SW Evade 2, SW Prevail 2, Airnet, Propero 3, Echelon, SW Dissident, Ambush, Ambush Comp, Tactic 3.  It is advised that the helmets are retrofit by an authorized Specialized Retailer.  Also, some service parts may not be available in all markets.
— SPECIALIZED RECON – THE NEW OFF ROAD STANDARD —
MIPS
How does MIPS work?
The MIPS system is a low friction layer allows a sliding motion of 10-15mm, in all directions. This reduces the rotational motion transmitted to the brain during impact.
Specialized worked with MIPS to design system that minimizes the effects on overall helmet weight and ventilation. On high end helmets we developed a system that combines top level safety together with ultimate performance.
The A2 system truly meets the needs of the high performance rider, both in terms of ventilation and comfort (weight).
— SPECIALIZED ROVAL RAPIDE 321 DISC WHEEL —
What are the differences between the A2, B-Series, C-Series & E-Series? 
There is no functional difference between the solutions. They all perform in the same way when it comes to safety. Every helmet is customized with the right solution. That means for example that the solution for a well ventilated helmet that also focuses on weight is the A2 system.
Why MIPS, why now?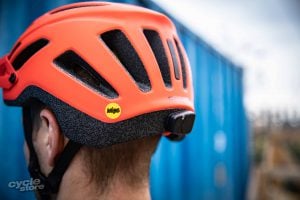 Specialized have been cautiously observing the work and research claims from MIPS over the last several years. Evidence proving the effectiveness of MIPS continues to grow. Through their own rigorous testing and evaluation process, Specialized firmly believes in and endorses MIPS technology.
Concussions and long-term effects of repeated concussions are in the public eye right now, driving consumer demand for great head protection. Within cycling, riders are increasingly aware of concussion danger and protective tech. More are opting for MIPS equipped helmets. This is a global trend.
— PETER SAGAN vs GRANDMA JOAN —
ANGi
What does ANGi stand for? 
ANGi stands for ANgular G-Force indicator.
What does ANGi measure?
The device measures both rotational forces and direct impacts. ANGi can detect dangerous forces that affect the brain even when the helmet does not sustain an impact.
What sensors are in ANGi? Is it GPS?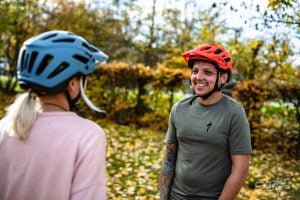 ANGi contains an accelerometer and a gyro for measurement of linear and rotational forces. GPS is done using the phone/app that the device is connected to.
How does ANGi compare to Garmin's Incident Detection Feature? 
Garmin uses an accelerometer to determine if there's an impact to the bicycle. The regular motion of riding, starting, and stopping can trigger false alarms. In addition, an impact to a bike that triggers the alarm can happen even when the rider is unharmed.
— SPECIALIZED 2019 S-WORKS VENGE PHOTO ALBUM —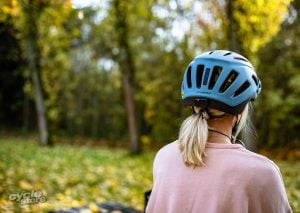 ANGi is attached to the helmet is specifically designed to measure linear and rotational forces to the head. The sensor is specifically looking for crashes that deliver dangerous forces that could result in a rider being unable to seek help themselves.
The primary goal of ANGi is to get riders help when they need it the most (i.e. they can't do it themselves). That is a key differentiator.
Being so close to the head, people are concerned about the radiations of the the ANGI system, can you remind us how much radiations it creates and maybe a scale vs a mobile phone for people to understand.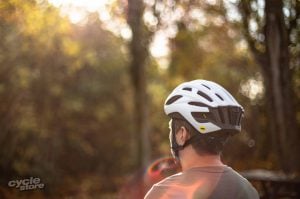 The device is Low Energy Bluetooth and is rated safe for its use and location, passing all radiation tests. It is globally certified and meets all FCC and CE standards.
When in use, the device does not maintain a constant Bluetooth connection with the phone. ANGi disconnects itself after it is activated and does a check in with the app every 5 minutes for about 10 seconds, we call these heartbeats. Low Energy Bluetooth allows the device to reconnect itself only when it needs to, these connections occur to make sure everything is working as expected and when the device detects an impact.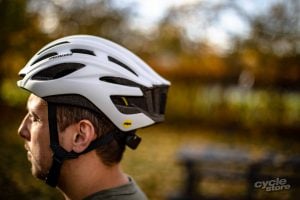 In short, on a normal 2 hour ride the device has an active connection for a total of 4 minutes. In contrast, today people wear standard Bluetooth headphones for hours. These are headphones such as Apple's airpods or Bose wireless headphones. Those maintain a constant Bluetooth connection for the entire duration of use at a much stronger signal strength.
— ELECTRIC BIKES TIMELINE – PAST, PRESENT FUTURE —
Can a rider retrofit the fit system on an existing Specialized helmet to make it ANGi compatible?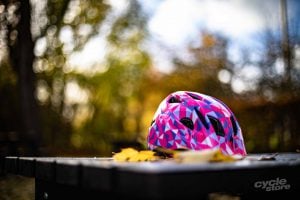 While it is possible to retrofit some Headset fit systems to MY18 and older helmets, we encourage riders to purchase a new helmet to take advantage of the combination of industry leading head protection technology provided through both MIPS and ANGi. ANGi-ready fit systems will be available as a service part.
Is ANGi waterproof?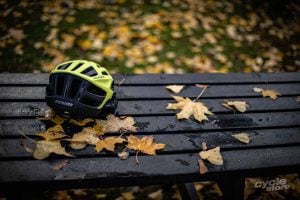 Yes, ANGi is waterproof rated at IPx7. This means that the sensor is waterproof when immersed for 30 minutes to a depth of 1 meter.
How long does the battery last?
Under normal conditions and regular riding, the battery should last 6 months.
Does a rider have to run the Ride App for ANGi to work?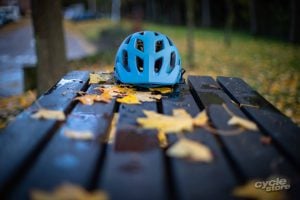 Yes, a rider must start the Ride App at the start of the ride for ANGi to work. The Ride App can run in the background for the duration of the ride.
How the time-based safety alert work? If I don't have signal, how does my phone get the call out? 
This is a cloud-based system, messages are delivered by our servers, not the phone. When a rider set-ups a time-based alert, they are effectively telling the servers that they should be connected back to them via call phone by a certain time. If the servers don't "see" the rider, an alert message is sent to the emergency contact, along with the rider's last known location.
— 15 TYPES OF MOUNTAIN BIKER WE ALL KNOW —
If a rider crashes when outside of signal, how does the emergency notification send? 
ANGi cannot communicate in this scenario. That is precisely why Specialized created the time -based safety alert feature. If a rider is planning to ride somewhere with known poor signal coverage, they should create a time alert as a back-up plan should something unfortunate happen.
How does ANGi connect to the phone?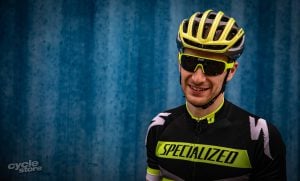 ANGi connects via low energy Bluetooth. The sensor does not maintain a constant connection to the phone but instead connects itself at the start of a ride when activated and then disconnects, only reconnecting when it needs to.
Can a rider use other Bluetooth devices while using ANGi?
Yes. ANGi does not conflict with other Bluetooth connections, including audio, heart rate monitors or power.
— 10 DIFFERENT TYPES OF STRAVA RIDE WE ALL UPLOAD —
RIDE APP / SUBSCRIPTION
How does a rider activate their subscription?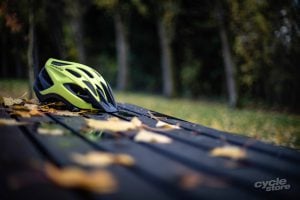 Subscriptions are redeemed through the app by entering an activation code printed on a card. The card is included in the packaging with the helmet or the aftermarket unit. Each activation code supplied with a helmet is good for a 1 year Specialized Ride premium subscription.
Does a rider need a subscription for each helmet or ANGi device they own?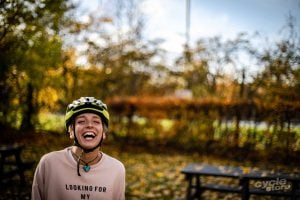 A premium subscription applies to an individual. An individual does not need multiple subscriptions for multiple helmets. Conversely, if an individual purchases multiple helmets/ANGi units, they can use them all with the same subscription.
Since each helmet or ANGi unit includes an activation code, the rider may save the code for future years of subscription and/or each time a code is entered, it will credit their subscription with an additional year from the expiration date of their first subscription. Put simply, 1 activation code = 1 year, 2 codes = 2 years, etc.
— USING CAFFEINE TO BOOST CYCLING PERFORMANCE —
How much does the subscription cost?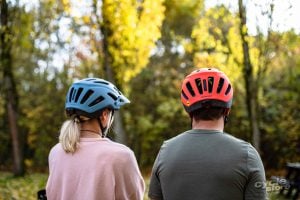 After the one-year free subscription, the annual cost will be USD 29.99. (GBP TBC) Currency will be localized based on rider location (i.e. Euros in Europe).
How does a rider renew their subscription?
At the end of their membership the rider will be reminded and will be able to extend through additional activation codes or a $29 credit card charge in app. All Ride App subscription purchases will be transacted within the Ride App.
For which devices is the Ride App available?
The Ride App is available for iOS and Android phones.
Can a rider connect multiple helmets to the same phone?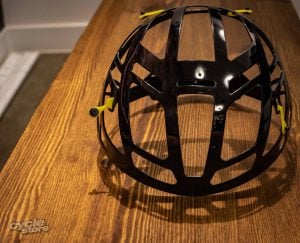 Yes, a rider can connect multiple helmets to the same Ride App account. For example, a rider with both a road and mountain helmet can have a sensor on each helmet, and each would be recognized in the Ride App. Only one helmet can connect to the app at one time.
Is the Ride App available?
Yes – the Specialized Ride App is currently available in beta version in the App Store.
Does the Ride App integrate with other apps like Strava? 
Yes, a rider can link their Strava account in the Ride App. The rider can then record the activity in the Ride App and have it autopost to Strava afterwards.